Chicken and Mushrooms with Farfalle comes together quickly with a flavor boost from tarragon and brandy. Recipe below.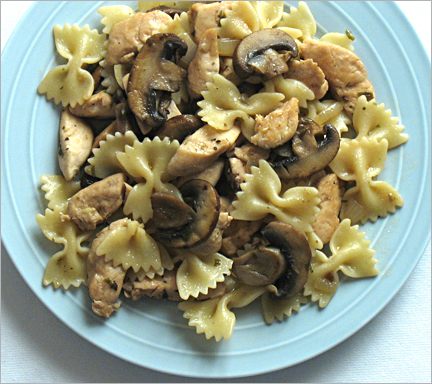 Quick, what comes to mind when I say cooking? I'm guessing you've probably started fantasizing about standing in a warm, pristine kitchen on a Saturday or Sunday afternoon and luxuriating in playing with ingredients, preparing for an intimate dinner party for friends or a leisurely family dinner. Things are marinating. Whole heads of garlic are roasting in the oven. Maybe you're sampling a little wine as you cook.
I don't know about you, but for every moment I have like this, I have probably a dozen or so when we've finally made it home from work and are ravenous. And chances are, we're hoping to run an errand or get to the library or the gym or something after we eat. So we've got maybe 3.2 seconds to get dinner pulled together. Sure, we can throw in the towel and grab some carry-out [and there are plenty of times we do], but when we rise to the occasion and get something good on the table quickly that we've made ourselves, it feels pretty good.
The challenge here is to embrace the moment for what it is and savor this kind of cooking experience as much as the extravagant weekend celebration of food. Maybe it's my over-caffeinated approach to life—my Brooklyn buddy has likened me to a border collie [you have to know the breed to get the comparison]—but I've actually come to often prefer the high-speed kitchen.
Here's a quick and delicious dish I pretty much invented in one of those 90-mph moments. No, you won't get it on the table in 3.2 seconds [hey, I work in advertising—hyperbole is my stock in trade], but if you've already got the ingredients on hand, chances are you can beat the pizza delivery guy.
This recipe didn't happen on a work week night—it actually happened on a Saturday. But we'd been so busy all day we hadn't noticed dinnertime was close at hand. And just to turn up the heat a notch, we were also trying to make it to a movie that night. So I took off for the grocery store on a smash-and-grab run with only the vague input from Marion that "maybe some pasta or something with chicken" would be nice.
As I rocketed through the store, the first thing that caught my eye was a bag of sliced "baby bellas"—cutesy marketing speak for baby portobello mushrooms—on sale. Grabbed it. You can use any kind of mushrooms you like for this dish. These are just what I saw and grabbed.
The mushrooms had me thinking pasta. I thought of herbs and liquids for some kind of sauce that I had at home. Which made me think that chicken might play nicely with the mushrooms. Mind you, all this thinking was happening as I speedwalked through the store, muttering under my breath [I hope] at lumbering fellow patrons whose job seemed to be blocking aisles and slowing me down. Grabbed some boneless, skinless chicken breasts and took off for the pasta aisle. I needed something scaled to match the mushrooms and bite-sized chunks of chicken. Farfalle. Bow tie pasta [although in Italian, it actually means butterfly]. Pretty on the plate and sturdy enough to spear with a fork—perfect for this kind of dish.
In the five minutes it took me to blast through the supermarket, I had roughly improvised a dish in my head. As I drove home, I continued to refine it: Garlic? No garlic? Wine? Brandy? Stock? Here's what I ended up doing.
Chicken and Mushrooms with Farfalle
Serves 2 [can be doubled—see Kitchen Notes]
2 tablespoons unsalted butter, divided
2 tablespoons olive oil, divided
4 to 5 ounces mushrooms, sliced
2 teaspoons tarragon [dry], divided
1/2 cup brandy [cheap stuff—we use E&J Brandy, found in most supermarkets]
1/2-pound boneless, skinless chicken breast, cut into bite-sized chunks
1 small onion or shallot, finely chopped
1 cup mushroom or vegetable broth [see Kitchen Notes]
6 ounces uncooked farfalle [bow tie pasta]
salt, freshly ground pepper
Start a pot of water for the pasta. Heat a large, deep skillet over medium heat. Add 1 tablespoon each of butter and oil, swirling pan to mix together. Add mushrooms to pan and sauté for about 5 minutes, turning to brown them on both sides. Sprinkle half the tarragon over the mushrooms, then pour in the brandy [all at once, to reduce spattering]. Let the brandy reduce by about half, then transfer mushrooms and brandy to bowl.
Add remaining butter and oil to skillet. Sauté chicken 'til just cooked through, 4 to 5 minutes, stirring to brown it on all sides. Salt it just slightly as it cooks [it's easy to add more salt later—taking salt out, not so easy]. Give it a couple of generous grinds of pepper too—the flecks of pepper will help it not look so anemic. Halfway through, add the remaining tarragon and the onion, stirring occasionally.
Return mushrooms and brandy to pan. Add broth and simmer over medium heat to combine flavors and warm everything through. Adjust seasonings.
Meanwhile, cook the pasta [see Kitchen Notes].
Turn off heat under chicken. Drain pasta and add it to chicken pan, starting with about 2/3 or so of the pasta. Stir it in and add more pasta, as needed—don't let it overwhelm the dish, and don't feel compelled to use every last noodle. As I said in my Campanelle with Sausage and Red Bell Pepper post, pasta is cheap.
Divide pasta between two plates and serve. Salad makes a nice side for this, as does steamed fresh green beans.
Kitchen Notes
Mushroom broth. I try to limit the use of specific products in my post, but since I do cook with them, they do show up from time to time. That said, this stuff is wonderful! It's Better Than Bouillon Mushroom Base, made by Superior Touch. A teaspoon of this dissolved in a cup of boiling water creates a nice, earthy stock that is far less salty than most canned broths—and unlike chicken stock, it doesn't run the risk of making whatever you're cooking taste like chicken soup. The company makes nine different bases in all, including vegetable, beef, turkey, lobster and, yes, chicken—although stores that carry them at all usually only carry a few. We first found the mushroom base at Fairway Market in New York. We loved it so much, we pestered the Chicago chain Treasure Island to add it to the varieties they already carried.
If you can't find it in the store, you can buy it at Superior Touch's website. And by all means, you can also use vegetable broth. I would just avoid chicken stock in this case for the whole chicken soup reason.
Timing the pasta. Once the chicken hits the pan, you're probably 7 to 9 minutes from the dish being done. So read the pasta instructions and time accordingly. Figure the pasta may take a minute or so longer than the package says. Pasta makers used to list times that would cause you to cook it to death—now they seem to err on the side of overly al dente, especially with thick pastas like farfalle. The good news is neither the sauce nor the pasta is overly fragile. If the pasta is cooking slowly, just turn off the sauce and cover the pan. If the pasta gets done too soon, just drain it and cover it. If it sticks together a little, tossing it with the sauce should loosen things up.
Doubling the recipe. As always with dried herbs, don't double the tarragon. If anything, I'd only add maybe another 1/2 teaspoon or so. Otherwise, it can overwhelm the dish.
Other Notes
In season and in your stores now: Clementines
These little beauties look like tangerines—and like tangerines, they're a variety of mandarin oranges. But in my book, they're waaaay better than tangerines. The biggest plus? No seeds. Clementines are smallish, a nice snack size. Their thin skin practically zips right off—nothing like wrestling with a navel orange. And their tangy, sweet flesh is addictive.
Cultivated in Spain and North Africa, they're mostly only available in produce markets and only during the winter. They're usually sold in boxes like this one. Buy a whole box—chances are you'll be back for another. And by the way, I think Darling Clementines is quite possibly the coolest brand name in recorded history.