This Endive Salad with Blue Cheese and Walnuts always reminds me of one of my favorite little New York bistros. Recipe below.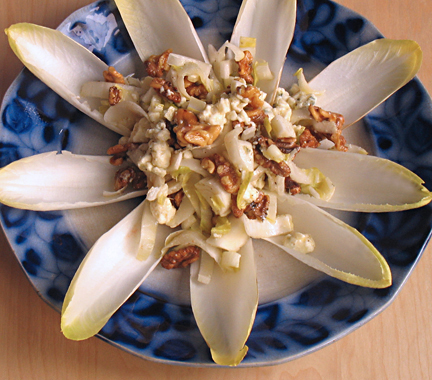 First things first. Blue Kitchen is going global this week. Brazilian blogger Patricia has graciously invited me to post a recipe on her baketastic blog Technicolor Kitchen. No, I didn't bake [and that's not all Patricia does, but when she does, it's always amazing]. I made a flavor-packed, summery pasta dish with Italian tuna and artichoke hearts—all you cook is the pasta. So check out Patricia's fabulous blog and this easy recipe. After you read the post below, of course.
Sometimes a restaurant just clicks with you. The food, the setting, the staff—even the moment it's part of. Lucien, in Manhattan's East Village, is just such a place for us. The moment it fit so neatly into the first time we ate there was the first time Marion and I managed to get to New York together. Marion had spent lots of time there, and I had made a number of three-day solo forays in search of art, jazz and booze [all plentiful there, by the way]. But we only got around to getting there together when I won a trip for two on Taco Bell's website a few years ago. Seriously.
Last week I talked about printing out reams of recipes from epicurious.com. Well, anytime I plan a trip to New York, several trees die at the hands of my printouts. In my online research for this visit with my bride, I found Lucien. The reviews looked promising, so I called to make a reservation and ended up speaking with the owner himself, Lucien Bahaj. He was charmingly self deprecating when I told him of the glowing reviews I'd read—even a little alarmed—and wanted to make sure I understood that his restaurant was just a little neighborhood bistro. I told him that was exactly what we were looking for.
And it was. Opened in 1998, Lucien has the nicotine patina of an ancient Left Bank establishment. Tile floors, mirrors on the wall, high tin ceiling and a long, dark wood bar add to the narrow storefront's authentic French feel. And the food is just as comfortingly familiar and authentically executed. Mussels steamed in white wine, escargots, both a foie gras and a paté, steak frites, cassoulet, duck confit… All served at modest prices in a cozy, welcoming place. We try to get there every time we visit now. If we lived in New York, we'd be regulars.
As it is, we're already treated like regulars. We walked in with our daughter Laurel one night, having last been there a year before. Our waitress from that previous visit, the lovely, multi-tattooed Lola, came up and hugged us and said, "It took you long enough to get back here!" That trip, we ate there twice. And on one of those nights, we shared a delicious salad with Belgian endive, blue cheese and walnuts as one of our starters. Here's my shot at recreating that salad.
In trying to figure out this fondly remembered salad, I turned first to the Internet. But everything I found was too busy—red onions, pears, grapes and apples, in particular, kept showing up. Marion and I both remembered something elegantly simpler. So after much discussion, I ended up with this stripped down version that tasted darn close to our memories—and pretty darn good, if I say so myself. As a quick update, I often substitute pecans for the walnuts these days. We even like that version a little better.
Endive Salad with Blue Cheese and Walnuts
Serves 2 to 3 as an appetizer
1/2 cup walnuts (or pecans)
2 tablespoons olive oil
2 teaspoons white balsamic vinegar [see Kitchen Notes]
salt, freshly ground pepper to taste
2 [or 3] largish heads Belgian endive [see Kitchen Notes]
1/2 cup crumbled blue cheese [see Kitchen Notes]
Preheat oven to 350ºF. Roast walnuts in a single layer on an ungreased baking sheet for 8 to 10 minutes. You can also toast walnuts in a dry skillet on the stove top for 5 or so minutes, but stir frequently to keep them from burning. Transfer walnuts to a plate to cool completely. Break any walnut halves into smaller pieces by hand. Some recipes say to chop them, but I think breaking them by hand works better—chopping is more mechanical and destructive, creating lots of teeny little crumbs.
While walnuts are roasting, whisk olive oil, vinegar, salt and pepper together to make dressing. Set aside.
Trim off the very base of the head of endive with a knife. Carefully remove 10 or so outer leaves one at a time. You'll probably need to slice off more of the base as you go along. If any leaves break or are less than visually perfect, reserve them to chop up for the blue cheese/walnut mixture. Rinse leaves and carefully pat dry with paper towel. Arrange in a radial pattern on plate.
Slice remainder of endive head in half lengthwise, rinse under running water and shake dry, then slice crosswise into 1/2-inch [or less] strips. Place in large bowl with walnut pieces and crumbled blue cheese and toss with dressing. Mound mixture in center of whole endive leaves and serve. Use the endive leaves to scoop up the cheese/walnut mixture.
Kitchen Notes
Vinegar and dressing. I made absolutely the most basic vinaigrette for this dish to allow the blue cheese, walnuts and slightly bitter endive flavors to shine through. I used white balsamic vinegar because regular balsamic would have discolored the blue cheese. Any white wine vinegar will do. Regarding the dressing, you'll note I used a modest amount, just enough to gloss the salad and add a little tangy flavor. No need to drown it.
Endive. When I make this dish, I usually use two heads. And every time, I think I should buy a third next time, just in case some of the leaves are less than beautiful. And greedily speaking, the extra head would make for more scooping leaves and filling. We usually end up finishing off the filling—every last molecule of it [yes, it's that good]—with forks.
Blue cheese. You want a fairly firm blue cheese, one that will hold up and not go all creamy gooey on you. I sometimes find Maytag blue at Whole Foods, a delicious, much sought after cheese made in, of all places, central Iowa. And yes, made by those Maytags, the family that made the appliances. Since the '40s, they've aged their wheels of cheese in caves, long before the word artisanal was connected to food. The Chicago Tribune's food section ran a fascinating article on Maytag Blue in January, Blue Heaven.
Also this week in Blue Kitchen
Size matters. Big time big art in downtown Chicago at WTF? Random food for thought.
Pretty birdie. A beautiful CD cover leads to music that lives up to it at What's on the kitchen boombox?