A good hot pan nicely chars bistro-style steaks and creates those delicious "browned bits" to be deglazed from the pan. Recipe below.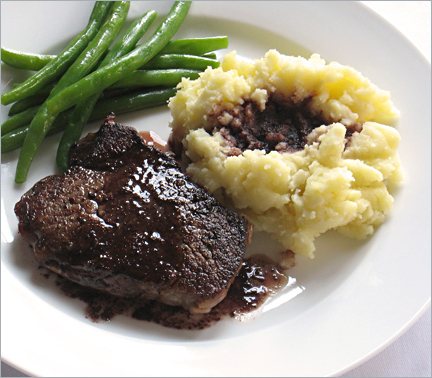 It's summertime. That time when everyone cooks every possible meal on the grill. Well, almost everyone. Me, not so much. We have an old Weber kettle that sees action maybe three or four times a season [although so far this year, I've used it—oh, let me think now—zero times].
I could chalk up my lack of enthusiasm for grilling to the pain-in-the-ass factor: Starting the coals, cleaning the grill before and/or after, the fact that we live on the second floor and it lives down in the yard… but that would be less than honest. I readily do plenty of things that rank high in the pain-in-the-ass department.
For me, it's more a control issue. Mainly my apparent lack thereof. Sometimes, food grills beautifully, and it is indeed sublime. Other times, it overcooks, undercooks or just plain underdelivers on wonderfulness. Admittedly, even then, the smoke does its magic flavorwise [and that's why I stick with charcoal on the rare occasions when I do grill]. But the frustrating thing is that, while the results vary wildly, my cooking methods don't, at least as far as I can tell.
So give me a good pan and a gas flame every time. I become one with pan and stove. Which brings me to the topic of cookware. As with most cooks, our collection of pots and pans has grown organically over the years. Among the cast of characters are always a couple of non-stick skillets which we tend to view as semi-disposable—however gently you handle them and whatever the warranty promises, sooner or later, they lose their non-stickiness. So we buy decent heavy ones, but don't go overboard. And we don't become too attached to them—when they stop working, we replace them.
At the other end of the spectrum are some very beautiful, very heavy French copper pots and pans that Marion heroically lugged back from Paris over a few visits—because of these, our total foodie friend Dan says we are the only people he knows whose cookware he covets. In between is a varied collection that includes everything from a copper pot Marion's mother found at a yard sale for a quarter to a sturdy, utilitarian aluminum saucepan recently bought for cheap at a Chinese restaurant supply store and a gorgeous Staub La Cocotte roasting pan, also French, picked up at the National Restaurant Association's trade show here in Chicago.
And then there is this pan. Is it possible to love a pan too much? I don't think so, not if it's a Calphalon One Infused Anodized Fry Pan
. It sears meat beautifully and provides those delicious "browned bits" you're supposed to scrape up when you deglaze the pan, much like the vaunted All-Clad stainless pans. It also releases food easily when it's properly caramelized and, unlike what I've heard of the All-Clad, it cleans up easily, pretty much like non-stick pans do. And they don't just let you use metal utensils with this baby—they recommend it. The better to scrape up those browned bits.
I had read about the wonders of these pans and was totally ready to try one, but the $135 price tag for the 12″ fry pan for something that might or might not be all it claimed seemed a bit steep. Well, sometimes he who hesitates is saved. I found it for 40 bucks at a Chef's Outlet store in Michigan City, Indiana. Yes, it was a factory second, but all that had kept it from being a factory first at Bloomingdale's Home Store was some minor scuffing along the pan's rim. And if you've got food out where those little scuffs are, you're not cooking—you're spilling.
So I tried one, digging through the dozen or so in the store to find the factory second least deserving that label. Then I took it home and cooked with it. It. Was. Amazing. I think I cooked chicken breasts the first time. After they'd been in the hot pan for maybe four minutes, I started to slide the metal spatula under one of the breasts. Nothing doing. It was stuck. So I waited another minute, as the instructions said, and tried again. Bingo. One by one, the chicken breasts released effortlessly and, when I flipped them, revealed a beautifully caramelized browned side. I was in love. And when I achieved a perfect char on what I like to call my bistro steaks, I knew that love was here to stay.
I call them bistro steaks because this is a popular way to cook them in French bistros, seared in butter in a hot pan [or in oil and butter if all that butter seems too, well, buttery], then finished with a sauce made by deglazing the pan with red wine. There are many variations on these steaks. This is mine. If you've ever clicked through on my sidebar page, What's with the name?, you know that Blue Kitchen is the name of the restaurant I will never open because I know what crushingly hard work it would be. But if I did, these steaks would be a permanent fixture on the chalkboard menu.
Blue Kitchen Bistro Steaks
Serves 2
2 filet mignons, 4 to 6 ounces each [see Kitchen Notes]
salt, freshly ground black pepper
1/2 tablespoon canola oil [or other high smoke point, neutral oil]
1 tablespoon unsalted butter, divided
3/4 cup dry red wine
Pat steaks dry with a paper towel and season both sides generously with salt and pepper [see Kitchen Notes]. Heat a large skillet over a medium-high flame, if using a non-stick pan—or high heat, if using a, well, non-non-stick pan, such as my lovely Calphalon One, an All-Clad or seasoned cast iron [again with the Kitchen Notes].
Add oil to hot pan. When oil begins to shimmer, add half the butter in chunks, swirling the pan to combine with oil. Place steaks in pan and cook, undisturbed, for 4 to 5 minutes. If you're using a non-stick pan, turn steaks. With all other pans, test with spatula to see if the steaks release easily. If so, they're properly caramelized and charred, ready to turn. If not, wait a moment and try again. Cook on second side until steaks have achieved desired doneness. This depends on thickness. The filets I made the other night were about an inch thick—4 minutes on the first side and 2 minutes on the second left them medium rare, nice and pink in the middle.
Transfer steaks to plate and tent with foil to keep warm. Add wine to pan, pouring it in all at once. It will splatter and sputter like crazy, creating an impressive red corona on the stovetop around the skillet. But pouring the wine in all at once will at least minimize this. Scrape up any browned bits and add butter in chunks, swirling to combine with wine. Reduce wine to a syrupy consistency [adding any accumulated juices from the steak plate], about 4 minutes or so. Turn off heat before wine mixture is totally reduced. In the time it takes to plate your dinner, the sauce will further reduce. Spoon sauce over steaks—and over mashed potatoes if you've made them and so desire. Devour.
Kitchen Notes
Steaks. You can use various cuts with this recipe—New York strip, sirloin or ribeye, for instance. Filet mignon is particularly suited for this treatment, though—it's wonderfully tender, but not one of the biggest flavored steaks you'll find. The butter and the sauce make up for its mild flavor, and its inherent tenderness delivers a luxurious mouth feel.
The science of searing. First, here's why to pat steaks dry with a paper towel: Except for a lone article I recently read [in Food & Wine maybe?], everyone else says that moisture on meat creates a temporary heat barrier as it evaporates. This doesn't allow the intense heat of the pan to seal the meat immediately with a nice caramelized outer crust before it starts cooking inside, and the meat dries out. And here's why non-stick pans don't give you that nice browned [or with steaks, charred] surface: First, you shouldn't heat them as much as non-non-stick pans. But just as important, the non-stick coating actually puts an intervening layer of plastic between metal and meat. If you put a non-stick and a non-non-stick over the same flame, the non-stick won't get as hot. All that said, if non-stick is what you have, don't worry—steaks made this way will still taste really, really good. Oh, yeah.
The Calphalon One Infused Anodized pans are actually a hybrid of sorts. Rather than coating the metal with advanced polymer, they infuse the metal with it. So food contacts bare metal for better searing, but the polymer makes it release more easily—the best of both worlds in my book.
Seasoning. Don't be shy with the salt and pepper. Something Helen posted over at Beyond Salmon reaffirmed a couple of things that I've always thought—first, one reason restaurant foods are so delicious is that they aren't afraid of the salt shaker. And the more fresh food you eat, the less sodium you're ingesting—processed foods tend to be a major culprit in adding salt to most people's diets. On top of all this, sodium really only poses a threat to a small percent of the general population. So don't go nuts with the salt shaker, but don't fear it.
Cast Iron. Many people swear by it. I swear at it. First, there's the whole seasoning ritual—and if you look at the pan cross-eyed when you're using it or cleaning it, you'll probably have to repeat said ritual under a full moon while performing a secret handshake. Next, the stuff weighs a freaking ton. But my biggest gripe with cast iron is its reactive nature. Wine, tomatoes, vinegar and other acidic foods react with the metal, giving foods an off taste. Apparently, the amount of time the wine or whatever is in contact with the pan makes a difference. With this recipe, you'd probably be fine using cast iron—and I'm not about to argue with anyone who routinely hoists cast iron around in the kitchen.
Meanwhile back at the grill. Yeah, I'll get around to hauling out the grill at some point. And when I do, I'll enjoy it well enough. But it will always take a back seat to a good hot skillet for me.
Also this week in Blue Kitchen
Downtown redux. The amazing next life of downtown St. Louis—with a side of crêpes—at WTF? Random food for thought.
It was 40 years ago today [and change]. Revisiting a watershed rock album at What's on the kitchen boombox?