Garlic is the star, but it doesn't overpower these creamy mashed potatoes. Recipe below.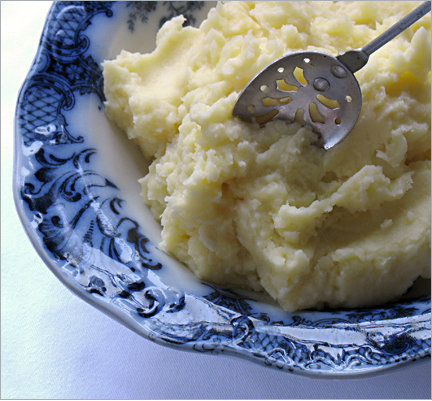 When I opened Blue Kitchen almost a year ago, I intended to have a recurring feature called A Little Something on the Side. It was supposed to be "all about the dishes that play the supporting role to the star of the plate—and on occasion, steal the scene." I said as much in my first something-on-the-side post, Marion's kasha, which she makes every Thanksgiving and as many other times a year as we remember how wonderful it is when we're planning dinner.
I've posted a few sides since then, but somehow, main course ideas keep taking over. They just seem more postworthy, I guess. But you need something to go with them to make a meal, don't you? So I'm rededicating myself to posting the occasional side on a more regular basis. Sometimes fancy or at least a little exotic, sometimes humble and hardworking, like today's.
To up their postworthiness [in my eyes, at least], I've enlisted my friend Matt's help in creating a special graphic for A Little Something on the Side. Maybe that will encourage me to do more of these. Thanks, Matt!
The potato—still #1. For all the low-carb, no-carb hysteria still occasionally gripping the media, potatoes are the most popular vegetable in America. Regarding the whole carbohydrates issue, without launching into a dietary diatribe, you need carbohydrates to live. Period. According to the Dietary Reference Intakes Report issued by the Institute of Medicine in 2002, "the minimum amount of carbohydrate that children and adults need for proper brain function is 130 grams a day." So wise up. Have some mashed potatoes.
And since you're having them, make them Yukon Gold. Yukon Gold potatoes are a relatively recent phenomenon in North America, but yellow-fleshed potatoes are common in Europe and South America. They're the norm, in fact. The Yukon Golds we know and love [enough to pay more for] are the result of years of work by a Canadian research team. They're a cross between a North American white potato and a wild South American yellow-fleshed variety [we all know that potatoes originated in South America, right?].
The result is an all-purpose potato with a naturally buttery flavor. In texture, it falls between the Idaho or russet [a potato with high starch content, great for baking, frying or mashing] and waxy or red potatoes [low starch, high moisture potatoes that stay firm when boiled and stay moist when roasted]. So while Yukon Golds don't bake as well as russets do, they do just about everything else just fine.
Including making fluffy, delicious mashed potatoes. Buttery, rich and golden. I make them a lot of different ways, but my favorite is with plenty of garlic. There are probably as many ways to make garlic mashed potatoes as there are cooks. A quick search on epicurious.com turned up 198 recipes. Some called for roasting entire heads of garlic before adding them to the potatoes; some called for sautéing garlic in oil, then adding it to the cooked potatoes. And with some, like mine, you add raw garlic to the water while the potatoes are cooking, letting it impart its oils and flavors to the potatoes—and its wonderful fragrance to the kitchen.
Garlic amounts called for varied wildly too. One recipe called for sautéing a single sliced clove of garlic in oil, then discarding the garlic and adding only the flavored oil to two pounds of cooked potatoes. That one fell firmly into the "why bother" camp for me. At the opposite end of the spectrum, our friend Joan advocates three large cloves of garlic per potato. I haven't had the nerve to try that one yet.
So without further ado, let me throw one more garlic mashed potatoes recipe on the heap.
Garlic Mashed Potatoes
Serves 4
2 pounds Yukon Gold potatoes—or whatever potato you prefer [see Kitchen Notes]
4 large cloves garlic
salt, to taste
1/4 to 1/3 cup buttermilk + more if needed [see Kitchen Notes]
3 tablespoons butter [or more or less, according to taste]
Peel potatoes and cut into chunks and put them in a large saucepan. Cover with cold water by about an inch and salt generously. Heat over high flame. While potatoes are coming to a boil, peel and roughly chop garlic. Salting garlic lightly will help keep it from sticking to the knife. Add to water and partially cover with a lid. Bring to a boil, uncover and reduce heat to medium.
At this point, stir a fork around in the pot. Feel how hard the potatoes feel as you do this? Remember that. Cook until potatoes are becoming tender, about 10 minutes—more, depending on size of chunks. At 10 minutes, stir again with the fork. If the potatoes still feel hard as the fork clunks against them, continue to cook and check again in a few minutes. If they don't feel so hard, that's your sign they're nearing doneness. Poke one with the fork and see if it breaks apart easily. If so, they're done.
Drain potatoes with a fine mesh strainer or colander—you don't want to lose the little bits of cooked garlic. Return potatoes to pot and set back on the burner for a moment. Even with the flame off, there is probably enough residual heat to steam off some moisture. If not, warm potatoes over a low flame for a minute or two, stirring, to get rid of excess moisture.
Add 1/4 cup buttermilk, 2 tablespoons of butter cut into slices and a few shakes of salt. Mash with a hand masher. Add more buttermilk if needed, but only a little at a time—potatoes can quickly turn to mush with too much milk. Taste and add more butter and salt as needed. Keep tasting as you do. You can always put more stuff in, but you can't take it out.
Mashed potatoes can be made ahead up to this point and kept covered on the stove as the rest of the meal comes together. Reheat over a very low flame, stirring occasionally to keep them from sticking or burning, then serve.
Kitchen Notes
Potatoes, peeled or not? Yes, I know, the skin has much of the nutrients found in potatoes. If I "mash" my potatoes in the food processor, I often leave the skins on. But for hand mashed, I prefer the creamy appearance and texture without the skins. It's up to you.
Buttermilk. Okay, I heard some of you out there going, "Ewwwww!" Seriously, buy the smallest container you can find and use it. It doesn't add a buttermilk flavor—it just adds a wonderful tang and depth to the flavor. When I cooked the batch for this post, I suddenly realized we were out of buttermilk [or more accurately, remembered that Marion had told me we were out of it]. To compensate, I had to add more butter and more salt than I usually do, and they were still only almost as good. Trust me on this. I don't drink the stuff either. Ever. But it makes a huge difference in these potatoes.
Other Notes
Garlic—not just good, but good for the heart. If you've read this far in this post, I'm assuming you like garlic just for its garlicky goodness. You've probably also heard that raw garlic is good for your heart, possibly helping to lower blood pressure and break up potentially harmful clusters of platelets in the bloodstream. Turns out most cooked garlic works too. After reading this post, my friend Carolyn sent along this interesting article from ScienceDaily. Thanks, Carolyn!
Also this week in Blue Kitchen
The written word, hardboiled and well done. Exploring the spare eloquence of the English language through the work of a Los Angeles bookkeeper turned mystery writer, at WTF? Random food for thought.
Rock 'n roll as the ultimate father and son project. On the road with the Spanic Boys, at What's on the kitchen boombox?