Moroccan Braised Beef, made with golden raisins and an international mix of spices, delivers the warm, sweet/savory flavors of Morocco. Recipe below.
Last week, I sang the praises of oven-braising cheap cuts of beef for flavorful, juicy tenderness. With winter maintaining its icy choke hold on the Midwest, I was inspired to explore this technique further. Nothing like firing up the oven for a couple of hours and enjoying a hearty, meateriffic dinner to take the edge off the cold. Eventually, my virtual explorations led me to Morocco.
"Morocco." The name alone conjures up exotic visions—Marrakesh, Casablanca [and Bogart and Bergman], souks [Moroccan markets] filled with dates, nuts, fragrant spices… Traditional Moroccan cuisine is as influenced by Europe and the spice trade routes as by being part of the African continent. Indeed, it is a mere eight miles [13 kilometers] from Spain at the narrowest point of the Strait of Gibraltar.
Lamb, chicken and beef all figure heavily in Moroccan cooking, especially in their stewlike tagines [the name for the dishes themselves as well as the special ceramic pots in which they're cooked].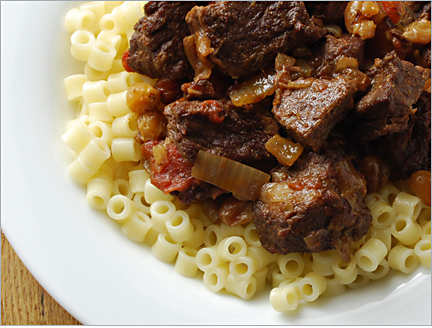 As do spices. Cumin, ginger, coriander, cloves, cinnamon, turmeric, cayenne, saffron… Various takes on the Moroccan spice blend Ras-El-Hanout use some or all of these and other spices. The emphasis is on bold flavor, not heat. The recipe that became the basis for my braised beef even called for [authentically or otherwise] the Indian spice blend garam masala. Again, given the centuries of the spice trade through the region, it didn't seem off the mark. And when the spice mix hit the hot pot early in the cooking process, it gave us an instant preview of the exotically delicious meal to come.
Mixing sweet with savory is also a big part of this cuisine. Besides onions, the vegetable that appeared most frequently in the recipes I found was carrots. And raisins showed up in more recipes than not. Once I'd settled on the beef dish, I started looking for a Moroccan side to accompany it. After the fourth or fifth recipe with raisins and pretty much the same spice mix, I served a simple salad on the side. And I opted for spooning the beef over a bed of ditali, instead of the recommended couscous. I felt the scale and texture of the tiny tubes worked better with the chunks of beef.
The beef itself was tender and full of flavor; the raisins [which plumped up to resemble small, golden grapes] and spice blend lent a definite sweet note to the savory meat. The cayenne delivered a bit of heat that sneaks up on you without overpowering the dish. Together, they served up a bit of warmth and sunshine on a cold Chicago night.
This dish can also be simmered on the stovetop at a very low temperature for 2 hours. For an alternative spice mixture, try a simple take on Ras-El-Hanout [recipe below].
Moroccan Braised Beef
Serves 4
canola or olive oil
2 1/2 pounds boneless chuck roast, cut into 1-inch to 1-1/2-inch cubes
salt, freshly ground black pepper
2 cups chopped onions
3 garlic cloves, chopped
1 tablespoon garam masala
1 tablespoon paprika
1 teaspoon ground cumin
1/2 teaspoon cayenne pepper
1 cup dry red wine
1/2 cup dry Sherry
2 cups chicken or beef broth
1 14 1/2-ounce can diced tomatoes in juice
1 1/2 cups golden raisins [you can substitute regular raisins—see Kitchen Notes]
Special equipment: parchment paper
For accompaniment, cooked couscous [I opted for ditalini, small, short-cut pasta tubes]
Put oven rack in middle position and preheat oven to 350°F. Sprinkle beef with salt and pepper. Heat a large, heavy ovenproof pot with lid over medium heat, then add enough oil to completely coat the bottom. Brown beef cubes on all sides in batches, without crowding, transferring as browned with a slotted spoon to a bowl.
Add onion to pot, drizzling in more oil, if needed. Cook, stirring, until onion begins to soften, about 3 or 4 minutes. Add garlic and spices; stir 1 minute. Add wine and sherry; boil until reduced by about half, scraping up browned bits and stirring occasionally, about 5 minutes.
Add broth, tomatoes with juice and raisins; stir to blend. Add beef and accumulated juices. Cover with a round of parchment paper and lid and braise in oven, 2 hours, stirring once about halfway through. Adjust seasonings with salt and pepper, serve over cooked couscous, if you desire.
Here's an alternative spice blend to try, a simple take on the traditional Moroccan Ras-El-Hanout.
Ras-El-Hanout
Makes 2 tablespoons [use the entire batch to season the beef]
1 teaspoon ground cumin
1 teaspoon ground ginger
1 teaspoon salt
3/4 teaspoon black pepper
1/2 teaspoon ground cinnamon
1/2 teaspoon ground coriander
1/2 teaspoon cayenne
1/2 teaspoon ground allspice
1/4 teaspoon ground cloves
Whisk together all ingredients in a small bowl until combined well.
Kitchen Notes
Go for the gold[en raisins]. If at all possible, do use golden raisins; their golden color adds a nice touch to the dark mahogany color of the beef. You'll find them at Trader Joe's, among other places. But if you can't find them, standard issue raisins are used in many Moroccan dishes and will serve you just fine.
Also this week in Blue Kitchen, 2/13/2008
Notes from the underground—above ground too. Follow YouTube and me into the subways for some amazing live music, at What's on the kitchen boombox?
Going green, now in a handy six-pack. As plastic bags go the way of the rotary phone, Trader Joe's offers quite possibly the coolest alternative yet to paper or plastic, at WTF? Random food for thought.