Cooking for the calendar, this weekend saw some beautifully skinny fresh asparagus, simply prepared. Cooking for the actual weather, though, called for a hearty pot roast. Recipes below.
Before we get to the food, a quick little digression about blogging.When I started Blue Kitchen a year and change ago, I knew it would be a way to indulge my passions for food, photography and writing. I also knew it would make me think more about food and cooking, ultimately making me a better cook. What I didn't know is what a wonderful international network of warm, sharing friends and fellow bloggers I'd be plugging into.
This kind of welcoming environment isn't necessarily unique to food blogging, but it seems to be more prevalent here than elsewhere. Interestingly, according to a food blogger who specializes in restaurant reviews, it's mainly found among bloggers who write about making food, not critiquing it. My friend Ronnie writes two blogs, the wonderfully eclectic Out Of My Head and the advice-filled Work Coach. She also reads a wide range of blogs and says she hasn't found this kind of community anywhere else.
The latest example of this comes from Lydia over at The Perfect Pantry. She was just given the E for Excellent Award—by four different bloggers, no less. She then took a turn, passing the award along to five other blogs. Including this one. Thanks so much, Lydia! I learn something new every time I read your blog, so it means a lot that you thought of me.
And now my turn. The easiest thing would be to award it to everyone in my blogroll. They're all wonderful sources of information and great reads to boot. But I'll try to narrow it down to five. And I'm sticking with food blogs, just because [we food bloggers are a clannish lot]. Just as Lydia was in her choices, I'm every bit as swayed by entertaining writing as I am by good food. Maybe even more so. These bloggers deliver, post after post. Every one of them has made me think—and made me a better cook in the process:
Ann, at A Chicken in Every Granny Cart; Christina, at A Thinking Stomach; Jennifer, at Last Night's Dinner; Patricia, at Technicolor Kitchen and Toni, at Daily Bread Journal.
Okay, back to the kitchen. Here in Chicago, the calendar says spring [yeah, it says that everywhere north of the Equator, I know]. The thermometer takes a different view, often dipping below freezing. In fact, the tulips you see here were an impulse purchase, something to remind us that it is indeed spring. So when we were planning one of those Sunday dinners we don't do enough of, I decided to split the difference. For the calendar, I made fresh asparagus, suddenly plentiful and affordable again. And for the chilly weather, I made a satisfying pot roast, complete with chunky vegetables. Let's start with that.
I've been on an oven braising kick lately. Soon the weather will heat up and I won't want to do the same to the kitchen. But for now, it's a great way to let tough cuts of meat like chuck roast get all nice and tender without drying out. You'll find more about the technique here. My other pot roast recipe in the archives is a more exotic take on this humble, hearty meal, made with Biryani Curry Paste and pan roasted on the stovetop. I call it Terry's Mysterious Pot Roast. You can use the stovetop technique for the more traditional recipe below, but honestly, oven braising will keep it more moist.
Pot Roast with Vegetables
Serves 4
2-1/2 to 3-pound boneless chuck roast [see Kitchen Notes]
salt and freshly ground pepper, to taste
1 to 2 tablespoons canola oil [or other high smoke point oil]
1 cup dry white wine
1-1/2 cups broth [see Kitchen Notes]
3 to 4 carrots, peeled and sliced into big chunks
2 onions, peeled and roughly chopped
2 cloves garlic, chopped
2 bay leaves
water, as needed
4 to 5 medium potatoes, peeled and cut into big chunks [I used Yukon Gold]
Preheat oven to 350ºF. Pat chuck roast dry with paper towel, season on both sides with salt and pepper. Heat a roasting pan [make sure it has a tight-fitting lid—I used our beloved Staub La Cocotte oval roasting pan] over a medium-high flame. Add enough oil to coat bottom and sear roast on both sides, 4 to 5 minutes per side.
Add wine, broth, carrots, onions, garlic and bay leaves around sides of roast, stirring to evenly distribute. Cover roasting pan and place in oven. Roast for 2 hours, checking after one hour to see if liquid is evaporating. Add water as needed to bring the liquid level partway up the side of the roast without submerging it completely—you want to braise it, not boil it.
At the end of 2 hours, add potatoes. Roast for another 30 to 45 minutes, until potatoes are done. Transfer roast to platter, tent with foil and let it rest for 10 minutes before serving. Keep vegetables in roasting pan on stovetop until just before serving—the residual heat in the pan will keep them warm. Slice pot roast crosswise in 1/2-inch slices, transfer vegetables to a separate serving bowl and serve.
Kitchen Notes
Choosing a chuck roast. We're lucky to have a source for nice, thick boneless roasts—2 to 3 inches think. Some stores sell bone-in roasts that are more like 1 to 1-1/2 inches thick. Those will work fine too. The cooking time isn't affected; this cut of meat needs plenty of cooking time to tenderize it. Whatever size roast you get, know that it will shrink in size during cooking, so err on the generous side; there are worse things than delicious leftover pot roast.
"Broth?" What kind of broth? Any kind. Chicken, beef. I used Superior Touch's Better Than Bouillon Mushroom Base because we had it and like it a lot. Heck, you could even use vegetable broth if you like—but with a big slab of beef, that would just seem silly, wouldn't it?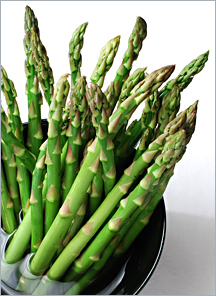 And now for the calendar, the asparagus. You can keep your robins and crocus as harbingers of spring. For me, it's bundles of beautiful, slender asparagus spears standing at attention in trays of ice or water in the produce market. Sure, you can find asparagus in the supermarket sporadically throughout the winter, but the quality varies wildly and the price is invariably exorbitant. Early spring begins the season of readily available, reliably tender, reasonably affordable asparagus. Later in the season, the fat, cigarlike stuff will be all you can find, but for now, I'm in asparagus heaven.
There are plenty of ways to dress up asparagus. Hollandaise sauce recipes abound, for instance, and I'll admit that a cold spear wrapped in prosciutto is pretty tasty. You can grill it. You can roast it [toss it with a little olive oil, salt and a squeeze of lemon juice, then roast it on a cookie sheet at 350-400ºF for 15 minutes]. But in the end, my favorite way to eat asparagus is also the simplest way to cook it. It's so easy, in fact, that I hesitate to call it a recipe. But here goes anyway.
Steamed Asparagus
Fresh asparagus, 6 to 8 spears per serving
salt
Rinse asparagus under cold running water. Trim off the tough ends of each spear. The easiest way to do this is grasp each spear near the base with the fingertips of both hands and bend. The woody end of the spear will naturally snap off. Discard ends. If you're not going to cook it right away, stand it in a bowl of cold water to help it stay crisp.
Fill a lidded pot or skillet wide enough to accommodate the length of the spears with cold water to a depth of 1/2 inch or so. Bring it to a boil over a medium-high flame. Add asparagus spears, salt generously and cover. Steam the asparagus for 4 or 5 minutes, no longer. You will begin to smell the asparagus when it's done. Scoop the asparagus from the water, transfer to a serving dish and serve.
See? Simple, simple, simple. And the best way to let its flavor shine through.
Also this week in Blue Kitchen, 4/2/2008
A museum! At night! With wine! We are so there. If you're drinking while you're geeking out, is it still geeky? In any case, it's still fun, at WTF? Random food for thought.
More than three chords, but plenty raw. Old Time Relijun rocks out, with complexity, at What's on the kitchen boombox?