Chili powder, cumin, fresh jalapeño peppers and cilantro liven up quick and easy turkey burgers. Recipe below.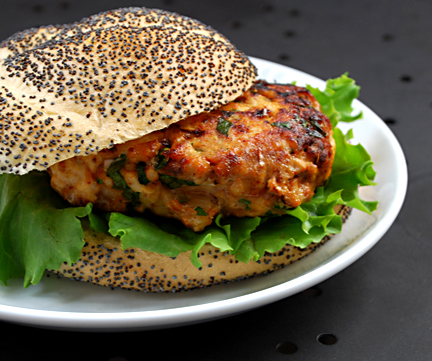 When did burgers get all uptown? The New York Times reports on this growing trend "In Paris, Burgers Turn Chic." Beef patties on sesame seed buns are even turning up in three-star restaurants there. The attraction? The Times quotes Paris restaurant consultant Hélène Samuel, who sums it up thus: "It has the taste of the forbidden, the illicit—the subversive, even. Eating with your hands, it's pure regression. Naturally, everyone wants it." No, Hélène, tearing apart an entire roast chicken with your bare hands and eating it is pure regression. Eating a burger with your hands is just how you do it. But if you read some of the amazing things French chefs are doing with the lowly hamburger, you'll be as inclined to forgive Ms. Samuel's primal enthusiasm as I was.
I'm not so inclined to forgive the excesses reported by Yahoo! Travel in "America's Most Expensive Burgers." Okay, so $17.50 for a caviarburger at Serendipity 3 in New York City sounds reasonable enough. And $27 for a Daniel Boulud hamburger stuffed with short ribs, foie gras and truffles isn't out of the question [sounds pretty good, in fact]. But no amount of shaved black truffles makes a hamburger worth $150. And a couple of restaurants, both in Las Vegas, even pair burgers with rare bottles of French wine and charge $5,000 and $6,000 respectively. Ordering these is a sure sign you've got too much money and not enough brains.
But on a simpler, less astronomical level, we like burgers a lot. They're a quick and easy, totally satisfying weeknight meal. And if eating them with your hands isn't exactly pure regression, there's undeniably a nice, relaxed informality to it. Generally, we use ground sirloin for its low fat content. I know most chefs advocate using fattier ground beef for its juiciness, but as long as you cook ground sirloin on the medium rare side, it remains plenty juicy.
Lately, though, we've been occasionally enjoying the lighter taste of turkey burgers. Unlike whole roasted turkeys with their distinctive robust flavor, ground turkey presents kind of a blank canvas not unlike chicken breasts. Here, jalapeño peppers, onion, fresh cilantro, chili powder and cumin create a lively, satisfying burger with just a little heat
I sautéed these burgers, which seemed quicker and easier than grilling. You can grill them if you prefer.
Spicy Turkey Burgers
Serves 3 to 4
canola oil
1 jalapeño pepper, finely chopped [see Kitchen Notes]
1/2 small onion, finely chopped, about 1/2 cup
1 pound ground turkey [see Kitchen Notes]
1/4 cup chopped fresh cilantro
1 teaspoon cumin
2 teaspoons chili powder [see Kitchen Notes]
1/2 teaspoon salt
buns, lettuce, purchased salsa
Sauté jalapeño pepper and onion with a little canola oil in a medium-sized nonstick skillet over medium flame, stirring often, for 3 to 4 minutes. Transfer to bowl to cool slightly.
In a large bowl, gently mix turkey. cilantro, cumin, chili powder, salt and cooled pepper/onion mixture with your hands until just combined. Form into 3 or 4 patties [I did 3—if you do 4, they will be smallish].
Heat a large nonstick skillet over a medium-high flame. Add a healthy glug of canola oil and sauté turkey patties for 3 minutes on each side; they should be nicely browned. Reduce heat to medium and cook until just cooked through, about an additional 4 minutes.
Serve on buns with lettuce and a dollop of purchased salsa, if desired.
Kitchen Notes
Adjusting jalapeño and chili powder heat. The heat of peppers comes from the seeds and whitish ribs inside. By removing all or some of these, you can regulate peppers' heat. For these turkey burgers, I removed about half the seeds and ribs. Combined with the chili powder and cumin, this gave the burgers what I like to call a little authority. Honestly, though, had I used the entire pepper, they would have still been within our comfort zone. But know your own heat tolerance and adjust accordingly. With the chili powder, if you buy any kind other than the ubiquitous supermarket jars, you can often select a level of heat that's right for you. Chili powder delivers lots of flavor along with its heat, so rather than reducing the amount of chili powder in the recipe, opt for a milder blend, if possible.
Buying ground turkey. Ground turkey is increasingly available prepackaged in supermarkets. If you're looking to reduce the fat in your diet, be sure to check the fat content on the packaging. Some of it is 93% lean, which actually means it's about the same as ground beef sirloin. You can also sometimes find ground turkey breast meat, which is 99% lean. That's what I used here.
Editorial Note
This post is being written at a cruising altitude of 32,000 feet, as we fly to Albuquerque and Santa Fe, New Mexico, for a brief vacation. No particular reason you need to know that—I just liked typing it.
Also this week in Blue Kitchen, 8/23/2008
Dancing like crazy can help keep you sane. Seriously. A scientific study shows dancing can reduce the risk of dementia in ways that other exercise can't. And a YouTube video shows one man truly dancing like crazy, all around the world, at WTF? Random food for thought.
So dance to this. A mini-Blue Kitchen Dance Party, also courtesy of YouTube. Turn up the sound and bust a move, at What's on the kitchen boombox?