Dried tart cherries and rosemary add flavor—and health benefits—to roast pork tenderloin. Recipe below.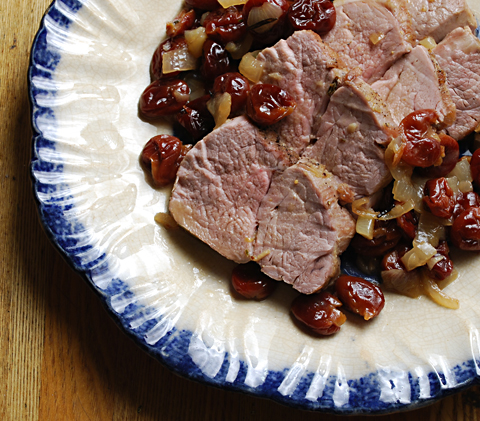 Talk about perfect timing. My friend Carolyn, who works in science communications, is always sending me interesting articles and links. Last Thursday morning, she sent me something about the health benefits of tart cherries. On Friday afternoon, Marion and I left for a weekend in Michigan, the largest producer of cherries in the United States. Before we'd even packed up the car for the trip, I knew I'd be seeking out dried red tart Michigan cherries at their source and cooking with them for this week's post.
Cherries are just the latest proof of the health benefits of going for color when choosing produce. The brighter/darker/richer/more intense the color, the better something is for you. Spinach, blueberries, broccoli, raspberries… all contain loads of nutrients. They also contain powerful cancer-fighting, heart-protecting or fat-reducing properties. And it's not just a coincidence. According to the article Carolyn sent from The American Association for the Advancement of Science's EurekAlert! [how's that for a cool name for an online global news service about science?], studies suggest that these "colorful plant compounds may be responsible for cherries' anti-inflammatory properties and other health benefits."
The EurekAlert! story reports that according to a study by the University of Michigan, "New research continues to link tart cherries, one of today's hottest 'Super Fruits,' to lowering risk factors for heart disease." The study, presented in Chicago this week at the American Dietetic Association annual meeting, found that, in addition to lowering cholesterol and reducing inflammation, "a cherry-enriched diet lowered body weight and fat—major risk factors for heart disease." Most exciting, it significantly reduced hidden or deep-belly fat, known to be a risk factor for cardiovascular disease and type 2 diabetes.
Tart cherries get their bright red color from powerful antioxidants known as anthocyanins. Research suggests these red compounds can also ease the pain of arthritis and gout.
Okay, I was sold. I was going to make something with tart cherries. The question was what? For a nanosecond, I considered some kind of muffins. Regular readers know me and baking and understand why I immediately moved on. Next I thought of sweet and savory combinations, which led me immediately to pork. Regular readers will also be less than surprised by that statement. But in my defense, pork plays so nicely with fruit. I first thought of pan-seared pork chops, but settled on roasting a pork tenderloin. Chops would work beautifully with this dish too—I'll describe that variation in my Kitchen Notes.
As their name implies, tart cherries deliver an almost puckery punch when eaten raw [although after the first bite or two, they're an addictive snack]. When cooked, their tartness is toned down, and they add a lively sweet/tart tang to savory dishes.
Roast Pork Tenderloin with Tart Cherries
Serves 4 to 6 [see Kitchen Notes]
1-1/2-pound pork tenderloin [or 2 1-pound tenderloins]
salt and freshly ground black pepper to taste
1/2 tablespoon fresh rosemary needles, plus 2 sprigs [see Kitchen Notes]
2 tablespoons olive oil
1 medium yellow onion, chopped
1 large clove garlic, finely chopped
1/2 cup low-sodium chicken broth
1/2 cup apple cider [or 1/2 cup dry white wine]
1 cup dried tart cherries [see Kitchen Notes]
Preheat oven to 375ºF. Pat pork tenderloin dry and season generously with salt and pepper. Sprinkle with rosemary needles. If necessary, cut tenderloin into 2 pieces to fit in large ovenproof skillet. Pork tenderloins often are separate pieces of meat formed together; their favorite pastime is coming apart when you handle them for cooking, so I tied the one I cooked in a few places with kitchen string.
Heat the aforementioned ovenproof skillet [which should also have a lid] over a high flame. Add oil and brown tenderloin[s] on all sides, about 6 to 8 minutes total. Transfer meat to a plate and reduce heat under the skillet. Sauté onion until tender, 3 to 5 minutes. Add garlic and cook until fragrant, 45 seconds or so. Add broth, cider and cherries to skillet, stirring to combine.
Return meat to skillet, turning to coat with broth mixture. Cover skillet and transfer to oven. Roast tenderloin until just cooked through, about 15 to 20 minutes. An instant read thermometer inserted into the thickest part should register 150-160ºF. With most pork produced in the United States, a little pink inside is okay. Transfer meat to platter or cutting board and tent with foil. Let it rest for 10 minutes. Slice into medallions and serve, with cherry sauce spooned over them.
Kitchen Notes
First, a safety note. When you put a skillet in the oven, the handle gets hot. Yeah, I know. You're saying "Duh," just as I did when I read this warning for the umpteenth time. I remembered to grab a potholder before removing the skillet from the oven. I didn't remember minutes later when I wanted to stir the cherry sauce after removing the tenderloin. Burned the crap out of my hand. I admit my stupidity so you won't do the same thing.
How many servings? Pork tenderloins vary in size, from 1 to 2 pounds usually. The 1-1/2 pound tenderloin I found this time was perfect for 4 servings. If you end up with 2 pounds of tenderloin[s], it should serve 6.
Fresh or dried rosemary? Fresh is my first choice, but if dry is what you have, I'd use about 2 teaspoons. Sprinkle one over the meat before browning and add the second to the skillet with the liquids.
Dried tart cherries. These are generally easy to find, I think, in produce departments or wherever dried fruits are sold in your supermarket. You can also use frozen or canned. Drain the canned cherries before using.
Variation with pork chops. Substitute 4 bone-in chops for the tenderloin. Season with salt, pepper and rosemary and brown in a large, lidded skillet big enough to hold chops in a single layer. Transfer chops to plate and follow recipe steps tthrough adding liquids and cherries to skillet. Return chops to skillet, cover and finish on stovetop until cooked through.