Coarse kosher salt quickly tenderizes cheap cuts of lamb, and oranges and pomegranate molasses combine with roasted golden beets for a lively winter salad.
While I occasionally turn Blue Kitchen over to Marion for a post, in real life, we're often in the kitchen together making a meal happen. That was the case recently for this quick weeknight dinner. So this week, you'll find a pair of cooking posts. I'll start off by telling you about the lamb; then in the second post, Marion will tell you about a beet salad with oranges and blue cheese quickly assembled using beets roasted the night before.
British music hall comedian Max Wall once said, "Show business is like sex. When it's wonderful, it's wonderful. But when it isn't very good, it's still all right." That's pretty much how I feel about lamb. It was love at first bite the first time I had roast leg of lamb. And lamb chops always catch my eye on restaurant menus.
But more modest cuts have their own lamby charm, especially now, with daily economic headlines making us all want to just pull the covers over our heads. One such cut is lamb shoulder arm chops. Cut from the arm portion of shoulder, these inexpensive chops are quite flavorful, but can also be on the chewy side. As Fox Fire Farms' website puts it, "This does not mean the shoulder chop is not tender or of secondary quality. It simply means you can't be in a hurry when cooking this delightful lamb chop." They're best suited for slow braising, which tenderizes them; but during the week, I have neither the time nor the patience.
Kosher salt to the rescue. Well, and Jaden over at Steamy Kitchen. I first used her technique for tenderizing steaks—by heavily coating them with coarse salt for 15 minutes or so before cooking—when I made Pan Seared Steaks with Chimichurri Sauce back in January. It worked so beautifully that I immediately had to try it on some tough but tasty lamb shoulder chops. What I discovered was a way to enjoy tender lamb without sticker shock or a long wait.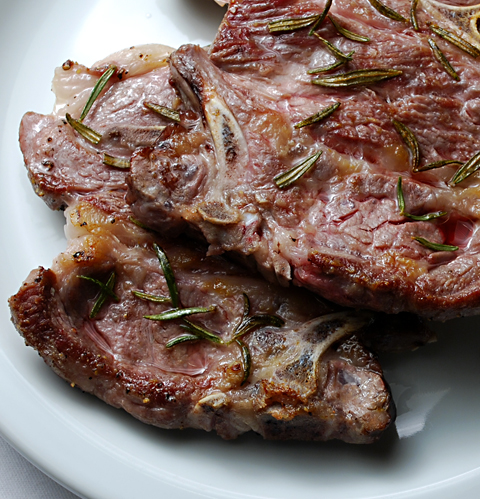 Pan Grilled Lamb Shoulder Chops with Rosemary
Serves 2
2 bone-in lamb shoulder arm or blade chops, 6 to 8 ounces each
coarse kosher salt [you can also use coarse sea salt]
1 tablespoon fresh rosemary needles [or 1-1/2 teaspoons dry]
freshly ground black pepper to taste
canola oil [or other high smoke point cooking oil]
Place lamb chops on plate and salt generously with coarse kosher salt or sea salt on both sides, as much as a teaspoon per side. Set aside for 15 to 20 minutes. Rinse chops under cold running water and pat thoroughly dry with paper towels. Season on both sides with freshly ground black pepper and rosemary. DO NOT ADD ANY MORE SALT.
Heat a ridged grill pan over medium-high to high heat. [You can also use a regular skillet, but lamb tends to be fatty and throw off a lot of rendered fat; I personally don't get this, because they look so skinny and fluffy.] Drizzle some canola oil in the pan and brush it around to coat the ridges. Add chops to pan and cook on one side for about 4 minutes. Turn and cook on the second side for about 2 minutes for medium rare. Plate and serve.
A couple of quick notes
Lamb and beets? Unbeatable. Marion's beet salad in the next post was a perfect foil for the meaty richness of the lamb—bright, tart and earthy. A nicely complex mix that comes together quickly.
Read all about it, er, me. I was just interviewed by Nina for the November newsletter of Chicago Locavores, even though I warned her that I'm a locavore newbie. Read the interview and check out the rest of this exciting resource for shopping, cooking and eating local.