Fresh rosemary adds a subtle, mysterious something extra to Hazelnut Rosemary Jam Cookies, perfect with a cup of tea—and when holiday guests drop by. Recipe below.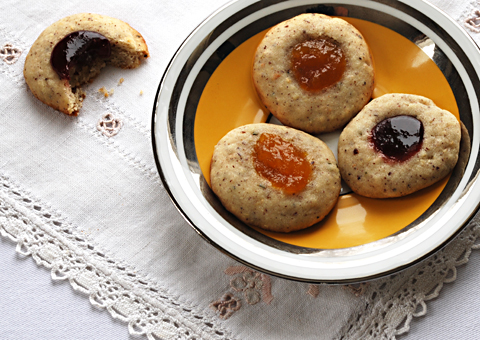 Before I forget, exciting news. I was invited by Bon Appétit to participate in their upcoming holiday recipe showcase of, as the email said, "our favorite bloggers" on their website. Holy crap! They're calling it Bon Appétit's Blog Envy, and this cookie recipe will be featured there; I'll let you know when it goes live. Who am I kidding? I'll probably take out a full-page ad somewhere.
Yeah, the guy who says he never bakes baked. But these are cookies. No yeast, no punching dough down and letting it rise again in some mysterious warm, dark place. Or is it a cool, dark place? [On a side note, the term cool, dark place invariably makes me think of the Empty Bottle or the Green Mill or some other welcoming bar, and any thoughts of baking immediately vanish.]
Now what were we talking about? Oh, yeah. Cookies. Another thing about them is that, unlike cakes or pies, you bake them in batches. So if one batch gets screwed up, you've got more chances to get them right.
Those batches also mean you can store them in airtight containers and have them on hand for holiday guests. With a cake or a pie, once you've cut into it, you can only offer it to family or really good friends afterward without looking, well, overly thrifty.
As usual, the inspiration for this recipe came from a couple different sources. First, I came across a promising recipe while looking for information on hazelnuts. Reading it, I immediately remembered what fresh rosemary had done for the crust of an apple galette Marion had recently made, and a cookie idea was born. Also as usual, I looked at a bunch of different recipes, online and in cookbooks, before cobbling a number of them together into this elegantly simple recipe.
I say simple because various recipes called for vanilla or almond extract [or both], lemon zest, coconut… I wanted the hazelnuts and rosemary to star, creating a subtle, not-too-sweet cookie to play against the tart/sweet fruitiness of the jams. I'm happy to say that's exactly what I ended up with. The rosemary is not a big, obvious herbal hit; it just adds a delicate, mysterious note that turns these cookies into a real holiday treat.
The one thing that made me feel a little silly in doing the research for these was discovering that I must be the only person in the known universe for whom making the humbly but aptly named "thumbprint cookies" was not a family tradition. I've always thought of them as store bought or perhaps bakery bought. Once I got over that, I decided to make them my own.
Hazelnut Rosemary Jam Cookies
Makes about 4 dozen
1 cup shelled hazelnuts
1 cup butter, softened [2 sticks]
1 cup sugar
1 egg
1/4 teaspoon salt
2 cups sifted flour
1 tablespoon finely chopped rosemary
good quality jam [see Kitchen Notes]
Special equipment: Parchment paper [seriously]
Toast and grind hazelnuts. Preheat oven to 350ºF. Spread hazelnuts in single layer on a baking sheet. Toast in oven until fragrant, about 5 to 10 minutes [8 minutes did it for me]. Transfer to a pie plate or other dish where they can cool quickly, in a single level. When nuts are totally cooled, grind in a food processor, using short bursts; if the nuts overheat, they can grind into a paste. After several short bursts, I let them sit as I worked on the dough, occasionally give them quick blasts until they were finely ground into uniform particles. Don't go crazy with the grinding—you want ground nuts, not powder. Leave ground hazelnuts in processor bowl.
Make the cookie dough. Cream softened butter and sugar in a large bowl with an electric beater. Beat in egg and salt. Using a low speed on the mixer, gradually incorporate flour, occasionally scraping down the bowl sides to make sure it combines evenly with the butter/sugar mixture. Sprinkle chopped rosemary over hazelnuts in food processor and pulse a few times to incorporate it evenly in the ground nuts. Gradually add to butter/sugar/flour mixture, again using a low speed on your mixer. Cover bowl with plastic wrap and refrigerate dough for 2 hours or overnight [the more firm and chilled it becomes, the easier it is to form the cookies].
Bake the cookies. Preheat oven to 375ºF. Roll dough into 1-inch balls, about 1 level tablespoon of dough per cookie. Arrange a dozen of them on a sheet of parchment paper that fits your cookie sheet. Slightly flatten balls with the palm of your hand—they will spread more during baking, so don't squash them. Slide the parchment paper sheet onto cookie sheet and bake until the cookies are lightly golden, about 8 to 12 minutes [10-1/2 minutes proved just right in our oven]. While they're baking, prepare another dozen on a fresh sheet of parchment paper. Also, slightly warm the jam—see Kitchen Notes for how and why.
When the first batch is done, slide the baked-cookie-laden parchment paper off the cookie sheet and onto a table or countertop. Slide the raw-cookie-dough-laden parchment sheet onto the cookie sheet and pop it into the oven. [Marion found this excellent tip somewhere. It's not only easier than transfering still soft cookies from a hot cookie sheet and safer than trying to flatten cookie dough balls on said hot sheet—if the raw cookies sit on the hot sheet for too long before going into the oven, they tend to spread out too much, literally melting.]
While cookies are still warm, press indentations into the tops. One suggestion was the rounded end of a wooden spoon. Sticking with the thumbprint tradition, I used gingerly touches with various digits so my thumbs didn't take all the heat. It gave me better control over the shape of the dents [a little full disclosure here, it also gave me one or two temporarily tender fingertips—I can hear professional line cooks groaning and cursing now]. Spoon a half-teaspoon or so of warmed jam into each cookie. Let cookies cool slightly, then transfer to plates.
Kitchen Notes
Choosing, warming jam. Here's where the store brand you usually rely on [or I do, anyway] is maybe not the best choice. The traditional flavors for these cookies tend to be raspberry and apricot—nice colors and a pleasing tartness. I've also heard blackberry mentioned, which would also be delicious, I think. For the raspberry, we chose a seedless preserve; if you have a seeded version, press it through a sieve with the back of a spoon to remove the seeds. We always have apricot jam in the house, but when we were looking for a nicer version, peach preserves made by American Spoon in Petoskey, Michigan, caught our eye. With either apricot or peach preserves, mash bigger chunks of fruit with the tines of a fork in a small bowl.
Go easy on the warming. Most recipes call for adding the preserves before baking the cookies. Adding it after they're baked creates a shinier, more professional finish [as I learned from the excellent The Art and Soul of Baking, by Sur La Table and Cindy Mushet]. Warming preserves makes them easier to work with, but you have to be careful. The Sur La Table book recommended microwaving some in a bowl briefly. That worked fine for the peach preserves, but the raspberry preserves turned to syrup [happily, they rethickened as they cooled]. Ultimately, I found that setting small bowls of preserves near my oven's exhaust vent on the stovetop did a great job.
Storing the goods. These cookies will keep for several days in an airtight container. But don't stack them, store them in a single layer; the jam centers will stick to the undersides of other cookies and won't be as company-ready pretty.