Spanish chorizo, chickpeas, spinach and sweet paprika create hearty, Iberian-influenced fare that comes together in just minutes. Recipe below.
Adam Platt has a way with words. His restaurant reviews in New York magazine almost always contain at least one turn of phrase that, even if I'm not interested in the restaurant in question, get me thinking about food in new ways. So when I recently read his review of George Mendes' sophisticated new restaurant Aldea and came across the phrase chorizo nickels, I knew I would be doing something with this dense, paprika-powered Spanish sausage that included slicing it into nickel-sized pieces.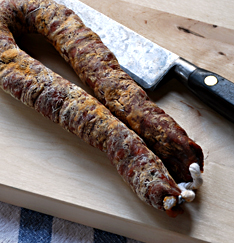 Spanish chorizo is made from coarsely chopped fatty pork and seasoned with Spanish paprika, salt and garlic. That's pretty much it. Spicier versions will also include small dried hot chiles. In Portugal, they make a similar sausage called chouriço. Both are completely different from Mexican chorizo, which is made from ground pork.
Chickpeas [or garbanzo beans] are packed with nutrients and fiber, making them an ideal staple in many cultures. They play a big role in Middle Eastern, Mediterranean, European, African and Indian cuisines, for instance.
The Stanfords travel website calls chorizo and chickpeas "emblematic ingredients of Spanish cooking," and you'll often find them paired in Spanish recipes, especially for tapas dishes. Because chickpeas are so protein-rich, the chorizo can serve as a flavoring in this dish and not as the primary source of protein—you use just four ounces of chorizo here. Fresh spinach adds plenty of nutritional punch too, making this quick and easy dish a complete meal in a bowl. It's a flavorful dish too. Paprika, another "emblematic" Spanish ingredient, makes it fragrant and delicious.
Chickpeas with Chorizo and Spinach is an ideal weeknight dinner. The prep work is minimal—slice some chorizo, mince some garlic, zest and juice a lemon, drain a can of chickpeas. And once you've turned on the flame under the skillet, you're less than 10 minutes from sitting down at the table. The paprika-rich big flavor also makes it perfect for a small plate or tapas dish.
Chickpeas with Chorizo and Spinach
2 main-course or 6 to 8 small-plate servings
3 tablespoons olive oil
4 ounces Spanish chorizo, sliced thin
1 clove garlic, minced
15-ounce can chickpeas, drained and rinsed
1 teaspoon sweet paprika [see Kitchen Notes]
5 to 6 ounces baby spinach [or regular spinach, chopped]
juice and zest of 1 lemon
salt and freshly ground black pepper, to taste
Heat a large nonstick skillet over medium flame. Add oil. When it starts to shimmer, add chorizo and lightly brown, stirring occasionally, for 1 to 2 minutes. Add garlic and sauté until fragrant, about 45 seconds. Add chickpeas and paprika. Stir to coat chickpeas with oil and paprika [the most wonderful smells will fill the kitchen at this point] and cook until chickpeas are just heated through, stirring frequently, about 2 to 3 minutes. Add spinach [in batches, if necessary], tossing to coat it with oil and wilt it. When the spinach is just wilted, remove from heat and stir in the lemon juice and zest. Serve immediately or let cool to room temperature to serve.
Kitchen Notes
Stick with sweet paprika. Spanish paprika, or pimentón, is a key flavoring in Spanish cuisine. Many recipes call for smoked paprika, but I think it would take over this dish, masking other flavors. The chorizo adds just the right amount of smoke. Use Spanish sweet paprika, if you have it. I used Hungarian sweet paprika because it's what I had on hand. And besides, the Hungarians certainly know a thing or two about paprika too.