A host of Mediterranean flavors come together in this quick, delicious seafood pasta. Recipe below.
Since our recent Washington, DC visit and Mellen's amazing seafood bourride, we've continued to think a lot about Mediterranean cuisine. So when we came across the sumptuous cookbook Olives and Oranges: Recipes and Flavor Secrets from Italy, Spain, Cyprus, and Beyond, we knew we'd be cooking more than a few things based on recipes we found here.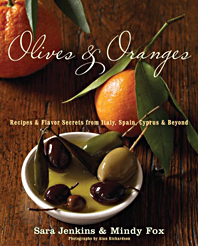 The authors of this beautiful cookbook know a thing or two about the region's food. As the daughter of a foreign correspondent, Sara Jenkins had lived in Italy, France, Spain, Lebanon and Cyprus by the time she was a teen. She put her love of Mediterranean flavors to work as chef of New York City restaurants such as Il Buco, I Coppi, Mangia and Porchetta. Co-author Mindy Fox is editor of La Cucina Italiana and a former editor at Saveur. She has written for many magazines and collaborated on a number of cookbooks. Alan Richardson supplies the amazing photographs.
The book opens with what Jenkins calls "My Flavor Pantry," a comprehensive description of oils, vinegars, olives, seasonings, herbs, spices, anchovies, cured meats, pastas, legumes and more, all crucial ingredients in the Mediterranean kitchen. Then she takes us from small plates and salads through pastas, risottos, fish and meats, right on up to sweets and cordials—more than 140 recipes in all, divided into quick-cook and slow-cook categories.
Of this quick-cook recipe, Jenkins says, "Capers, parsley and lemon are a common pairing with fish in the Mediterranean. Flaked with a few turns of the fork, the fish and its flavorings become an unexpected, delicious sauce for pasta." We couldn't agree more, but it's a more delicate flavor than the ingredients might suggest.
Spaghetti with Seafood, Almonds, Capers and Parsley
adapted from Olives and Oranges
Serves 4
1/4 cup plus 3 tablespoons olive oil [plus extra for drizzling, optional]
1 pound lemon sole fillets [or other white-fleshed fish—see Kitchen Notes]
2 tablespoons unsalted butter
1/2 cup whole almonds, coarsely chopped [see Kitchen Notes]
1/4 cup capers [drained but not rinsed—see Kitchen Notes]
3 cloves garlic, minced
1/2 cup chopped fresh flat-leaf parsley
zest and juice of 1 lemon
1 pound spaghetti
salt and coarsely ground fresh black pepper, to taste
Bring a large pot of water to boil and salt generously. Once you've begun cooking the pasta, start the fish. Salt and pepper the fish fillets. Heat a large nonstick skillet over a medium high flame. Add 1/4 cup olive oil and fillets. Occasionally tilt pan and spoon oil over fish to help cook the top side. Cook until the bottom has formed a golden crust and the fish is just cooked through, about 4 minutes. Transfer fish to a large bowl.
Pour off oil in skillet and return pan to medium high heat. Melt butter in pan, add almonds, capers and garlic and cook until fragrant, about 30 seconds. Add parsley, stir and transfer mixture to bowl with fish. Using a fork, break fish into bits and toss with other ingredients. Add lemon zest and juice and gently stir to combine. Cover to keep warm while pasta cooks.
When pasta is al dente, drain it. Immediately add pasta and remaining 3 tablespoons of oil to bowl with fish mixture. Toss and season with pepper and salt. Finish with a drizzle of oil, if desired, and serve.
Kitchen Notes
Choosing your fish. The recipe calls for sole, but says you can substitute other white-fleshed fish, such as fluke or flounder. I used turbot, because it was the freshest white-fleshed fish I could find. Freshness is key here. In handling the fish during cooking, be as gentle as possible. These kinds of fish are very delicate and will break up and even turn to mush quite easily. When you're mixing everything together at the end, do as little mixing as possible, using wooden spoons or other gentle tools.
Almonds—raw or roasted? Jenkins calls for raw almonds for this dish. We always have roasted almonds on hand, so I used those. Whichever you use, they should be unsalted.
Capers—packed in vinegar or salted? Same deal here. I generally have capers packed in vinegar around, but Jenkins swears by salted capers, praising their lively, sharp, pure flavor. If you use salted capers, be sure to rinse them several times. With vinegar-packed capers, don't rinse them—the briny kick of the vinegar that remains after draining adds brightness to the dish.