Two recipes this week, both Asian inspired—smoky, slightly spicy grilled pork chops in a simple marinade and a lively slaw bursting with fresh summer flavors and packing a little heat of its own.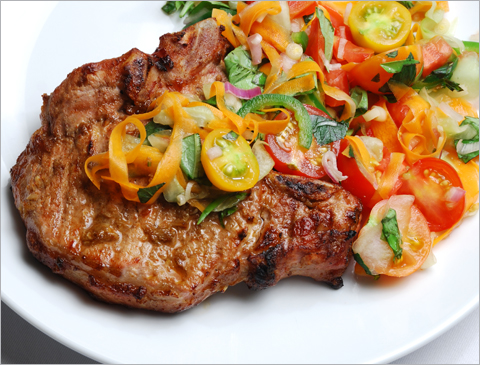 Our classical radio station recently played a Brahms piece for piano, four hands. The sound of four hands—two people—doing more with the instrument and the piece than two hands could have done reminded me of our occasional approach to working in the kitchen.
Marion and I both love to cook. On any given night, you'll find one or the other of us in the kitchen whipping up something for dinner. Who's at the stove will often be decided by who has time to cook or an idea to try—or whose perennial favorite dish we're really, really craving at the moment. Sometimes we both get in the kitchen to put a meal together. Most often, one person is cooking the main course and maybe a side, and the other is called in—quite possibly at the last minute—to throw together a salad or some other side. Not only is having the extra set of hands in the kitchen convenient, it's fun.
This past weekend, though, was one of those too rare moments when we were in the kitchen together by design. A true kitchen, four hands moment. It started with me wanting to grill something and Marion coming across a recipe she wanted to play with. Soon we were tweaking ingredients and techniques to create two Asian-inspired dishes that would complement and elevate each other—a smoky, slightly spicy pork chop and a lively slaw bursting with fresh summer flavors.
Asian Grilled Pork Chops
I'm the first to admit that I don't grill often enough. I've cataloged my reasons/excuses for not grilling much in these pages in the past, chief among them being a feeling of having less control over the outcome than if I'm cooking on the stovetop or using the oven. But almost every time I grill, the wonderful, smoky flavors I achieve make me wish I did it more often. This time was no exception.
For this dish, I used bone-in chops, about 8 ounces each and about 3/4-inch thick. I think the bone makes the chops more flavorful, so I choose this option whenever possible, but you can use boneless if you prefer. I used 1/2 teaspoon of cayenne pepper in the marinade and only got a hint of heat; I think I would use 3/4 teaspoon next time.
Asian Grilled Pork Chops
Serves 4
2 tablespoons reduced-sodium soy sauce
2 tablespoons sesame oil
1 tablespoon lime juice
3 cloves garlic, minced
1 tablespoon fresh ginger, minced
1/2 – 3/4 teaspoon cayenne pepper [according to taste]
4 bone-in pork chops, about 8 ounces each
Mix the first 6 ingredients in a small bowl to make the marinade. [Quick tip: To mince stubbornly fibrous ginger, cut it into 1/4-inch slices. Once you've peeled the slice, quarter it and bash each piece with the side of a knife. This will pulverize it into little 1/4-inch threads, easy to separate with a quick mince. You can also grate fresh ginger—just peel the piece you're grating first.] Arrange chops in a single layer in a 9×13-inch glass baking dish. Spoon/brush/smear marinade on both sides of chops to coat. Cover and refrigerate for 2 hours, turning chops a time or two while they marinate. Remove from fridge 20 to 30 minutes before you're ready to put them on the grill to allow chops to come to room temperature.
Grill the chops. I used a charcoal grill because that's what I have and like, and I used indirect grilling. I'll describe the process here, but if you have a method for successfully grilling thickish pork chops, by all means use it. Start coals about 20 minutes before you're ready to grill. When the coals are hot, arrange them on both sides of the kettle, leaving an open space down the center section. Oil the cooking grill, put it in place and arrange chops over the center so they are not directly over the coals. Put the lid on, with all the vents above and below completely open for maximum airflow and heat.
Grill chops for about 15 minutes, turning them midway through. Remove lid and move chops over coals to finish. Grill 4 to 5 minutes per side, watching carefully for flare-ups from grease drippings. When you get flare-ups, just move chops away from flame until it subsides. Since much of the fat cooks off during the indirect grilling, flare-ups should be minimal. Cook until a quick read thermometer registers 145ºF in the center of the chop [make sure the thermometer isn't touching bone].
Remove from grill and let rest for about 5 minutes. Plate and spoon slaw alongside and over chops.
Asian Slaw
I'm turning the kitchen over to Marion now to let her tell you about the slaw she created to accompany the chops.
First, this is a do as I say, not as I did moment. The photo shows my first attempt at this dish, in which I sliced the cucumber and the carrot with a vegetable peeler, into fine ribbons. Do not do this! The results are handsome in appearance but soggy in execution. The next time I make this, it will be with the carrots and cucumbers cut in a thicker, more solid form, a nice matchstick, and this is how I recommend you make it.
After you taste this, I think you'll want to try it on other grills—chicken, fish, shrimp. It would also be tangy and refreshing on its own or with cubes of fried tofu.
Once the vegetables are all prepared, this comes together very quickly. To keep it fresh and crisp, hold off mixing it until your protein is on the grill.
Asian Slaw
Serves 4
2 medium carrots, cut into matchsticks
2 medium [about 5 inches long] unwaxed cucumbers, cut into matchsticks [but not as fine as the carrots—see Kitchen Notes]
1/3 cup finely diced shallot
1/4 cup jalapeño peppers, seeded, finely sliced into rings, then the rings cut in half [see Kitchen Notes]
About 2 tablespoons finely chopped lemongrass, or more, tough outer layers removed [see Kitchen Notes]
2 tablespoons fresh lime juice
1 tablespoon sugar
1 tablespoon fish sauce [see Kitchen Notes]
1 cup grape tomatoes or a mix of grape and cherry tomatoes, cut in half
1/2 cup fresh basil, finely chopped [or use littleleaf basil, the individual leaves plucked from the stems but unchopped]
Place the cut-up carrot, cucumber, shallot, jalapeño and lemongrass in a flat glass baking dish.
Separately, in a small bowl mix the lime juice, sugar and fish sauce.  When the sugar is dissolved, pour the sauce over the vegetables.  Refrigerate for 10 minutes.
Remove from the fridge. Add the tomatoes and stir gently. Let stand for a couple of minutes.
Drain the entire thing in a colander. The sauce has already flavored everything, and you want most of the liquid to just go away. That is how to ensure this dish will be crisp, fresh and light, and not weighed down in feel. Once it is drained, gently shift the mixture to a bowl.  Sprinkle on the basil, toss gently and serve.
Kitchen Notes
Pick your cukes. Use any kind of cucumber you prefer. We used simple, unwaxed, modestly sized cucumbers—the kind the produce markets hereabouts call Persian pickles and that my mother used to call pickles [so that, for years, I did not understand that there was a difference between cucumbers and pickles, and also believed that all pickles were cucumbers; the transition to understanding that pickles could also be onions, carrots, watermelon was a little bumpy]. If your cucumbers are waxy or thick-skinned, however, you may wish to peel them.
Feel free to tinker. If you love that fresh zappy jalapeño flavor, by all means add more. Same for the lemongrass—especially if you are making this to accompany fried tofu. Tofu loves lemongrass. With the jalapeños, also feel free to leave in some of the seeds and ribs, depending on how much heat you want.
Fish sauce—which brand to buy? You can find fish sauce in most Asian markets. Right now our refrigerator is stocked with a brand that is new to us, Shrimp. It's good. If you aren't sure which brand to buy, just make sure the one you choose comes in a glass bottle, not plastic. Seriously, it makes a big difference. If you have never tried fish sauce and are not used to Asian flavors, you may be startled at first by the pungent aroma. Don't be put off. Fish sauce adds a mysterious, intense extra that nothing else can and in the finished dish, there is nothing fishy about it.
What—no salt? This dish does not include salt. You won't need it. The fish sauce has plenty.
Okay, now experiment! The basis of this recipe, a nexus of lime, fish sauce and sugar, invites variations. Radish [such as daikon, found in Asian markets] cut in matchsticks would be nice. Out-and-out finely julienned cabbage would work, taking this all the way into the realm of slaw. And last night, when I was in the kitchen cleaning up, I noticed a bowl of nearly ripe pluots and thought those would go well with this sauce too, plus some scallions and black pepper and little halved tomatoes.