Treating chickens more humanely not only improves the flavor of their eggs, it improves their nutrition. But confusing labels make finding the best eggs tricky.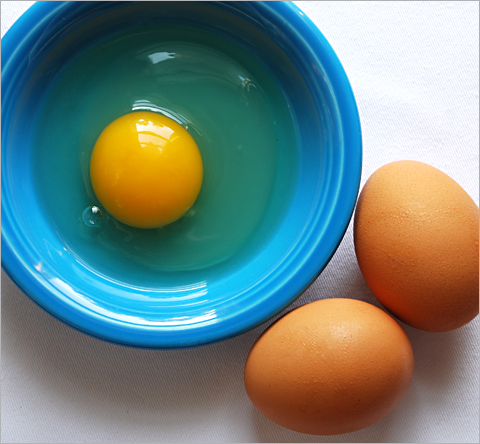 Okay, so this should probably not be so much revelatory as it is common sense. On the other hand, the way you get pearls is by irritating oysters. Still, in a world in which we are increasingly appalled by how industrial farming is abusing animals and our environment in the name of cheap food, chickens get the shortest end of the stick by far.
According to an article in the Christian Science Monitor, "Chickens are perhaps the least protected of farm animals. All farm animals are exempt from the federal Animal Welfare Act, but unlike other types of livestock, chickens are also exempt from individual state laws prohibiting cruelty to animals and from the federal Humane Methods of Slaughter Act." The Humane Society of the United States gives an equally grim assessment of conventional egg production in our country: "Arguably the most abused animals in all agribusiness, nearly 280 million laying hens in the United States are confined in barren, wire battery cages so restrictive the birds can't even spread their wings. With no opportunity to engage in many of their natural behaviors, including nesting, dust bathing, perching, and foraging, these birds endure lives wrought with suffering."
Guilt alone was enough to send me exploring alternatives when it came to buying eggs. But at the supermarket, I was met with two immediate obstacles. First, a baffling array of competing claims—natural, organic, cage free, free range, hormone free, antibiotic free, vegetarian diet…
Chef and writer Kelly Myers does a great job of thoroughly sorting this out in an article for the website Culinate, "Deconstructing egg carton labels." The article tells you which terms mean something and which are industry fluff or outright misleading. But the short answer is this: Certified organic trumps everything else. According to Myers, "All organic eggs are certified by the USDA. Organic eggs come from hens whose feed is free of pesticides, herbicides, fungicides, and commercial fertilizers. Organic chicken feed contains no animal byproducts. The hens have never been given antibiotics. They are cage-free and have access to the outdoors."
That said, there's a new term popping up more and more. You probably won't see it at the supermarket, but if you're lucky enough to have a good farmers market, don't be surprised to hear "pastured" or "pasture raised" being used to refer to egg-laying chickens. Pastured chickens range freely—or in large, movable pens to protect them from predators—feeding on bugs, grass, seed, fruit and such. You know, being chickens.
That's how Illinois farmers Chris and Tania Cubberly raise their layers and produce eggs like the ones shown above that they sold me at the Logan Square Farmers Market. Their new farm, Tempel Farm Organics, isn't certified organic yet—that's a process that takes time for the land to heal from conventional farming methods. But they're using all organic practices as they transition to certified organic over the next two years. They plan to be growing 50 different vegetables, cut flowers, pasture raised chicken and range fed eggs, all certified organic, in 2011.
Beyond the guilt: What's in it for us?
Here's where the revelation part kicks in. I bought my first dozen organic eggs at the supermarket, inspired by the aforementioned guilt. I felt good knowing the chickens were leading better lives, but wondered if we would notice a difference in the eggs. Did we ever.
First, the shells are sturdier—cracking them takes a little getting used to. Turns out battery-raised hens suffer calcium loss from stress and their egg shells are thinner. Once you get inside, the yolks are sturdier too. They sit up firm and high and are a deep, golden yellow. The big revelation, though, was the taste. They just tasted eggier—richer, more satisfying.
Ease my guilt and give me flavor and I'm sold. But wait, there's more. According to an article in Mother Earth News, chickens who live better produce eggs that are healthier for us. In an independent study, they compared eggs "from 14 flocks around the country that range freely on pasture or are housed in moveable pens that are rotated frequently to maximize access to fresh pasture and protect the birds from predators" with the official egg nutrient data from the USDA for "conventional" eggs. The results? They found that eggs from hens raised on pasture may contain:
1/3 less cholesterol
1/4 less saturated fat
2/3 more vitamin A
2 times more omega-3 fatty acids
3 times more vitamin E
7 times more beta carotene
I mentioned two obstacles to buying better eggs earlier. The second is price. Having become accustomed to—spoiled by?—conventional eggs for under two bucks a dozen [and sometimes 99¢ a dozen when they're on sale], $4 to $5 or more a dozen for organic, humanely grown eggs was a bit of a sticker shock. But then I did the per meal math. More often than not, we eat a single egg if we're having them for breakfast. When we do breakfast for dinner, it's usually two eggs each. So the protein portion of the meal clocks in at less than a dollar per serving. Try to make a steak or a burger or a salmon fillet for that.
The bottom line for us is that it's not too high a price to pay, for the chickens or for us.