From quick weeknight dinners to slow cooking and from Morocco to New Mexico, here are five surefire recipes to warm your insides as cooler weather takes over.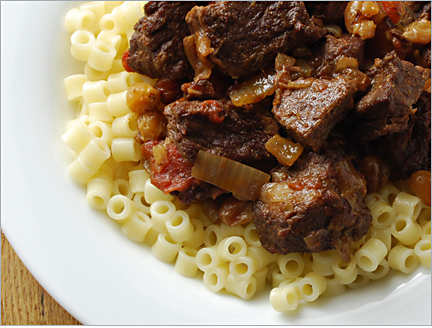 A friend will help you move. A good friend will help you move a body." By the standards of this graffiti found in the men's room of Chicago's Green Mill Jazz Club, Marion and I are not good friends. There were no bodies involved. But we did just spend five days helping someone with three cats move 600 miles. So I think we qualify as pretty good friends.
Those five days included zero time spent in a functioning kitchen. So this week, I'm digging into the Blue Kitchen archives for some hearty, stick-to-your-ribs meals perfect for taking the chill off cool autumn—and even downright cold winter—nights.
1. Moroccan Braised Beef
Pictured above, this dish combines golden raisins and an international mix of spices, with an emphasis on bold flavor, not heat. It delivers the warm, sweet/savory tastes and aromas of traditional Moroccan cuisine, a blend of Europe, the spice trade routes and the African continent. Moroccan Braised Beef uses slow oven braising to turn inexpensive, flavorful but tough chuck roast into a tender, delicious, fragrant meal.
2. Lentil Soup with Kale and Sausage
This hearty, healthy soup comes together quickly, perfect for a weeknight meal. Lentils pack a powerful nutritional punch—they're loaded with fiber and protein. Kale brings plenty to the table too—vitamins A and C, folic acid, calcium and iron. It also contains cancer-fighting antioxidants. And good health aside, Lentil Soup with Kale and Sausage is just plain good. Served with some crusty bread—and even without it—you've got a satisfying meal in under 45 minutes.
3. Biryani Chicken Breasts with Coconut Rice Pilaf
When temperatures start to drop, this continent-hopping dish packs some satisfying heat. As any Indian cook will tell you, my Biryani Chicken Breasts are light years from traditional biryani dishes. They use store-bought curry paste, for one thing, and get added kick from Tex-Mex canned tomatoes with green chilies. But the combination of big-flavored spices and their exotic fragrances will make you forgive my mix-and-match approach with this quick-cooking meal.
4. Red Beans and Rice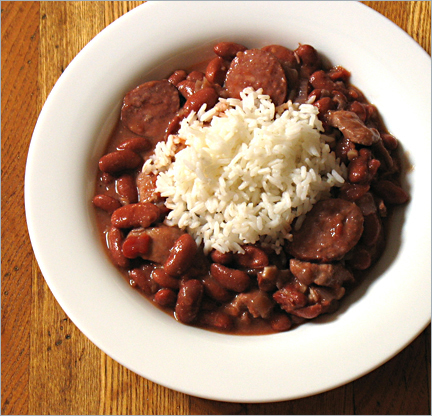 Red beans and rice started as a Monday tradition in southern Louisiana, something that used Sunday's leftover ham bone and could simmer unattended for hours on laundry day. But this New Orleans classic doesn't have to cook all day—and it doesn't have to be loaded with calories and fat. My version uses canned beans to speed things up and substitutes light sausage and chicken breast meat for fattier andouille sausage to lower the calorie count. And with the right mix of seasonings, this quicker, lighter Red Beans and Rice still tastes plenty authentic.
5. Carne Adovada
The first time I heard of this delicious traditional New Mexican pork stew was when I saw it on a menu in Albuquerque a little over a year ago. So imagine my surprise that carne adovada has become the leading search term by far that brings people to Blue Kitchen. Although it shouldn't surprise me too much, I suppose. Marinated overnight and then slow cooked until falling apart tender, Carne Adovada melds the flavors of New Mexico red chiles, cumin, oregano and garlic into a hearty, rustic meal.
So go ahead, bring on the cold weather. These five dishes are ready to warm you right up.
By the way, just one post this week. Next week I'll be back with two, including a new recipe.