Romantic dinners are usually intended to heat things up, but dining by candlelight this Saturday night will actually help fight global warming.
Earth Hour, now in its third year, is a global initiative aimed at raising awareness of global warming and the issues of climate change. According to the Earth Hour website, on Saturday, March 27, 2010, at 8:30 p.m. local time, "hundreds of millions of people, organizations, corporations and governments around the world will come together to make a bold statement about their concern for climate change by doing something quite simple—turning off their lights for one hour."
Tasting Table reports that a number of Chicago restaurants are participating, turning out the lights and serving up specials to mark the occasion. But you can celebrate right at home, with your own candlelight dinner. Here are some romantic menu ideas from the Blue Kitchen archives.
For starters, try this easy, impressive make-ahead Faux Gras Pâté. Adding duck fat to the butter gives it a hint of silky foie gras richness—making it a faux gras of sorts. A mix of herbs and port or cognac gives this chicken liver pâté an elegant complexity. Looking for something even easier, but still impressive and rich tasting? With the Endive Salad with Blue Cheese and Walnuts below, the only cooking you do is toasting the walnuts. This beautiful, crunchy starter always reminds me of one of my favorite New York bistros.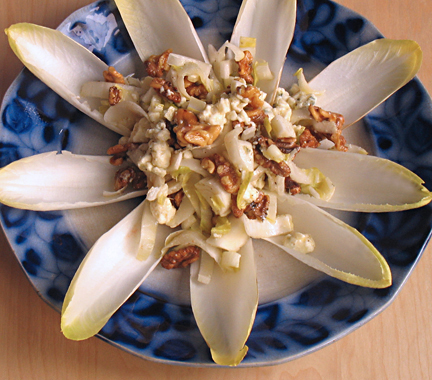 Next, some main course ideas. The delicate, quick sauce in Sole Fillets with Lemon Caper Butter is versatile. You can use it on any mild white-fleshed fish, or on chicken breasts, turkey cutlets or even veal scaloppine—anything light and fairly mild in flavor. Lemon caper butter lends a bright, complex touch to simply prepared main courses.
When it comes to romance, you can't go wrong with a simple French bistro meal. A couple of small, thick steaks—filet mignon is a good choice—become Blue Kitchen Bistro Steaks when you sear them in butter and oil a hot pan, then deglaze the pan with red wine. Especially when served with a side of garlicky mashed potatoes and a salad or steamed green beans.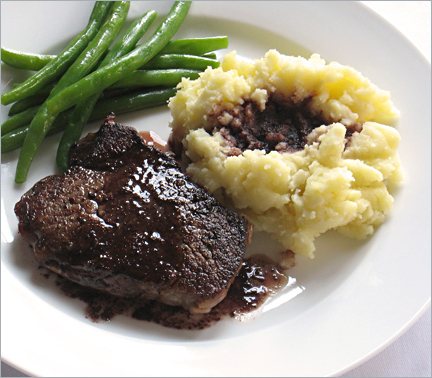 And finally, it's time for dessert. For out and out rich, decadent and delicious, you really cannot beat Marion's [Almost] Flourless Chocolate Cake. Quality ingredients—especially the chocolate and butter—are the key to this simple, impressive make-ahead dessert. There will be plenty of leftovers, though—you'll need absolute willpower or a willingness to take them to the office on Monday. Your colleagues will owe you big time.
Another popular favorite are these versatile, easy, elegant Mascarpone Cream Desserts. The cream itself is six ingredients and a few minutes with an electric mixer. You dress it up at the last minute with berries or rum-soaked fruit or chopped nuts and a drizzle of maple syrup… Creativity and playing with your food is encouraged.
So break out the candles and take part in Earth Hour. Even a simple soup and sandwich is cooler by candlelight. And as you do, you can imagine Earth Hour cascading around the globe, time zone by time zone, all of us connected by one shared idea. And that's pretty romantic, when you think about it.