Memorial Day weekend marks the unofficial start of summer here in the United States. And as it so happens, last weekend marked a wonderful long weekend in New York City for Marion and me. We returned to Chicago Sunday evening to 90º temperatures, broken air-conditioning and little desire to cook. So this week, I'm raiding the Blue Kitchen archives for five recipes for the grill to get the season rolling.
1. Moroccan-influenced Spicy Grilled Chicken Paillards
Cumin and paprika add plenty of flavor to these quick-cooking chicken breasts, but not much heat. The sauce gets the same treatment from orange juice, lemon juice, honey, cinnamon  and red pepper flakes. The dish originated in Paris and is just one of many French dishes that borrows flavors from Moroccan kitchens. Spicy Grilled Chicken Paillards is a great spur-of-the-moment dish, calling for ingredients you're likely to have on hand and requiring no marinating time. As a bonus, its name has a bawdy double meaning that will make for great dinner conversation.
2. Grilled Sausages with Peppers and Onions
The juices of Italian sausages flavor red bell peppers and onions when they're all cooked together in a covered foil pan inside a covered kettle grill. Then the sausages are finished directly on the grill. Adapted from a recipe in Cook's Illustrated magazine, Grilled Sausages with Peppers and Onions consists of just the three ingredients in the name—or five if you count the salt and pepper. But the result is a simple, flavorful meal that's great on a bun or perfect in a delicious pile, as shown above.
3. Turmeric/Ginger Pork Chops and Grilled Sesame Zucchini
Certain ingredients freely cross borders, especially in Asia. In the case of this Vietnamese pork chop recipe, a marinade seasoned with turmeric, ginger, garlic, Chinese five-spice powder and other spices gives Turmeric/Ginger Grilled Pork Chops big flavor with very little heat. For the side dish, Grilled Sesame Zucchini is delicious, smoky and impressive—and it's easy to make. I'm proud to say this pair of recipes was featured on Saveur's website.
4. Grilled Goat Kebabs with Pomegranate-Cumin Glaze
An amazing 70 percent of the red meat consumed in the world is goat, but for some reason, it's been slow to catch on in the United States. In these flavorful kebabs, it's a mild-mannered stand-in for lamb. Marinating the meat in cumin, cinnamon, oregano and pomegranate molasses gives it a distinctly Middle Eastern flavor. If you've never tried goat, Grilled Goat Kebabs with Pomegranate-Cumin Glaze can be a great way to discover the delicious carnivorous secret the rest of the world already knows.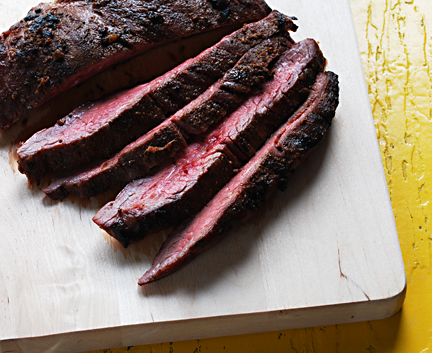 5. Grilled Spice-rubbed Flank Steak
I suppose I shouldn't be overly surprised that this is one of the most popular recipes on Blue Kitchen. After all, flank steak is one of the most flavorful cuts of beef around. And slow marinating—in a mix of coriander, cumin, cinnamon, fresh ginger and garlic—and quick grilling make this Spice-rubbed Flank Steak moist, tender and even bigger flavored.