Dishwasher-safe cutting boards made from sustainable bamboo and fermented garlic that delivers subtle flavors and a striking appearance are the subjects of my latest posts on the USA Character Approved Blog.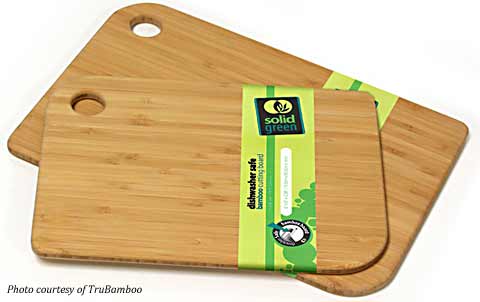 Despite what a certain famous frog says, being green is easy, at least when it comes to cutting boards. TruBamboo has introduced handsome, durable cutting boards made from bamboo, the quintessential green renewable resource. And best of all, they're dishwasher safe.
I mean, let's face it—we all want to be greener in our daily lives, but not if it means using green products that require special care or, worse, don't work well (I'm talking to you, eco-friendly window cleaners). Find out just how green bamboo is as a resource—and where to find these sustainable, durable, convenient cutting boards—at the USA Character Approved Blog.
Black is the new garlic
Black has long been used to convey style and sophistication—by fashion designers, whiskey makers, credit card companies… Now there's black garlic, and it actually delivers on the promise. We love garlic at our house. When either of us is cooking, it's a rare savory dish that doesn't get livened up with a clove or two (or three or…).
Well, black garlic offers a more subtle, more sophisticated flavor than standard issue, big-flavored white garlic. Its flavor is a mix of sweet, molasses-like caramelization, with tangy garlic undertones and that elusive savory/meaty fifth taste, umami. Chefs have been extolling and exploiting its virtues for a couple of years, and now it's turning up in home kitchens.
I've used black garlic in this week's recipe, Linguine with Mushrooms and Black Garlic. To find out more about exactly how black garlic gets that way and where to find it, read Black is the New Garlic at the USA Character Approved Blog.