A menu of Blue Kitchen favorites for friends spending their first Christmas at home as husband and wife.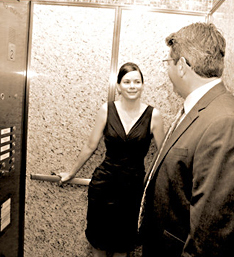 Our friends Matt and Leah got married this year. They're both sweet, funny, caring people. So as a couple, you can just imagine. Of this photo taken in the hotel elevator on their wedding day, Matt says, "Leah looks spectacular." To which we would add radiant.
Recently, Leah emailed me. It seems she and Matt won't be going home to Kansas City for the holidays, and she was wondering if I had any ideas about a romantic Christmas dinner for two.
Let me start by saying this is a wonderful way to spend your first married Christmas, Leah and Matt. It reminds me of when our daughter Claire had just turned one. We were supposed to visit Marion's parents for the holidays, but Claire came down with a terrible cold, and even though she was getting better by our travel date, her doctor said we should keep her home. So we switched our visit to New Year's weekend, but didn't tell a soul other than Marion's family. Everyone else thought we were out of town. Our phone didn't ring once, and no one expected us to drop by.
For three days, it was just our little family together. One of our fondest memories of that weekend (well, for Marion and me—Claire's memories of those days are probably sketchy at best) was taking walks in our Rogers Park neighborhood, pushing baby Claire in the stroller. Even the freshly fallen snow conspired to add a hush to our unexpected, treasured time alone.
When Leah first asked me for ideas, I immediately thought of duck. Duck never fails to impress, and if you cook duck breasts only, it's really very simple. I've made duck breasts a few different ways here; all were delicious, but the one that felt the most elegant and romantic was Duck with Raspberries. The raspberry sauce in this dish adds just the right tartness to the duck's richness—and its gorgeous red color adds a festive visual note to the plate.
Add something green—quickly steamed fresh asparagus or green beans or a mixed green salad—and you've got a lovely main course. A quick note: This recipe and the dessert recipe will need to be adjusted for serving two (or you can make them as is and plan on delicious leftovers).
For a starter, I thought of one of my personal favorite recipes (also one guests always enjoy), Endive Salad with Blue Cheese and Walnuts (although lately, I've been substituting pecans for walnuts and liking that even more).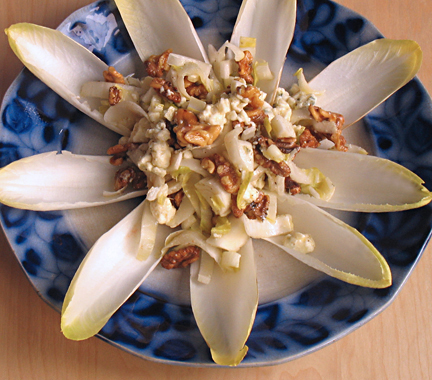 Besides beautiful presentation and a mix of wonderful flavors, this is salad as finger food. Playing with your food is encouraged. The Maytag Blue Cheese, made in Iowa, is fairly readily available, but any quality blue cheese will work with this dish.
Speaking of playing with your food, there's dessert. A perennial favorite here, if you believe search engine results, is Mascarpone Cream Desserts. Here, the playing happens in deciding how to top this elegant, creamy Italian dessert.
In the photo above, one dessert is shown topped with berries, the other with bananas and golden raisins soaked in rum. The recipe includes other variations to play with.
Whatever you decide to do for dinner—even if it's ordering in pizza from that great little place by the Morse el stop—have a great first Christmas, Matt and Leah. See you in the new year. And to everyone out there, happy, happy holidays.