Lamb chops topped with a sauce of dried tart cherries, Marsala wine, shallots, rosemary and garlic are a perfect way to celebrate Lamb Lovers Month. Recipe below.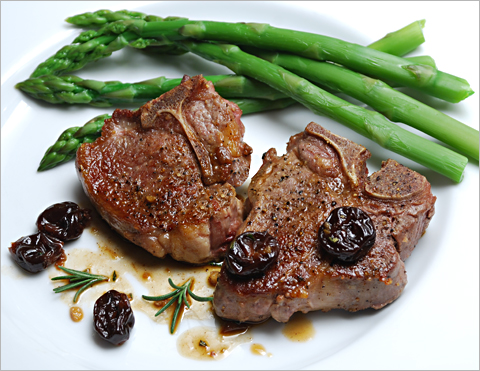 There are lots of reasons to love lamb. So many, in fact, that the American Lamb Board has proclaimed the entire month of February Lamb Lovers Month. All month long, you'll find recipes, lamb trivia and more on their website. You can even enter a recipe contest and win Date Night Dinner Packages of lamb (of course) and paired wines.
Here at Blue Kitchen, we love lamb a lot. We grill it, braise it, sauté it, roast it, turn it into stew… Mainly, we love its distinctive flavor, richer, livelier but somehow lighter than beef. It's versatile too. Little wonder it's embraced by so many countries, cultures and cuisines around the world.
We also love that it's easier on the planet. I covered this lovable quality in some detail during Lamb Lovers Month last year when I made Lamb Chops with Dijon Mustard and Thyme Here in the Midwest, sheep are mostly pastured on farms. In other parts of the country—and the world—shepherds move their flocks of sheep seasonally, often far up the sides of mountains, to graze.
We recently got a close-up view of this process in the stunning documentary Sweetgrass. There's no explanatory narration or even dialogue other than occasional overheard snippets of conversation in the film. Instead, you're just thrown in the midst of sheep and shepherds during the long, hard days of shearing, lambing and moving the flock up the mountain. There's no quick-cut editing either. Lingering shots give Sweetgrass almost a real time feel as you watch the backbreaking work, grinding boredom and occasional battles with bears these modern-day cowboys face. And even though these Montana sheep were raised for their wool instead of their meat, you get a finer appreciation of what it takes to raise the food that ends up on your plate.
Meanwhile back in the kitchen, when I spotted some nice lamb loin chops at the market the other day, I started looking for something new to do with them. Randomly enough, dried cherries and port turned up in numerous places. The port sounded a little assertive to me, so I substituted Marsala, an Italian fortified wine perhaps best known when paired with chicken. I also left out the cherry preserves called for in many recipes—I wanted the sauce to remain mostly savory, with just the occasional bright, tart bite of the cherries to balance the richness of the lamb. Add in some shallots, garlic and rosemary because they all play so well with lamb, and I was more or less done.
Lamb Chops with Cherry Marsala Sauce
Serves 2
1/3 cup dried tart cherries (see Kitchen Notes)
4 lamb loin chops, about 1 inch thick (about 1 pound—see Kitchen Notes)
salt and freshly ground pepper, to taste
1 tablespoon canola oil
1 tablespoon unsalted butter
1/4 cup finely chopped shallot
1 clove garlic, minced
2 teaspoons chopped fresh rosemary
1/2 cup low-sodium chicken broth
1/3 cup dry Marsala wine (see Kitchen Notes)
Place dried cherries in a small bowl and cover with boiling water. Let rest for 15 minutes, then drain. Pat lamb chops dry with paper towel and season with salt and pepper. Heat a large skillet over medium-high flame. Add oil and sauté chops for 3 to 4 minutes per side for medium rare, swirling pan occasionally to make sure chops stay in contact with oil. Transfer chops to plate and tent with foil.
Turn off flame under skillet. Wipe with paper towel (lightly and carefully, so you don't burn yourself—it doesn't need to be oil-free) and return to medium heat. Melt butter in pan and sauté shallots until just tender, about 3 minutes, stirring occasionally to avoid burning. Add garlic and rosemary to skillet and cook, stirring, until fragrant, about 45 seconds. Add broth and Marsala to skillet. Stir in cherries and scrape up any browned bits. Cook for 2 to 3 minutes, until sauce is slightly reduced and thickened.
Divide lamb chops between two plates. Spoon sauce and cherries over and around chops. Serve.
Kitchen Notes
Dried tart cherries. I wrote about the health benefits of these amazing Super Fruits when I made Roast Pork Tenderloin with Tart Cherries. They're generally easy to find in produce departments or wherever dried fruits are sold in your supermarket. You can also use frozen or canned. Drain the canned cherries before using; thaw the frozen ones.
Choose your chops. I used lamb loin chops because that's what I found. You could also use lamb ribs chops (and even French them if you want to get all fancy). Both cook quickly and are tender and relatively small. If you want to use tougher but cheaper lamb shoulder chops for this dish, use the quick tenderizing technique I describe here. Then only season the chops with pepper—you don't want to add any more salt to the dish. Also, shoulder chops tend to be bigger and heartier, so you'll only need one per person.
Fortified with hard alcohol goodness. Marsala is a fortified wine; brandy is added, which not only affects the flavor, but makes it more shelf stable than regular wine. You can cook or drink with an open bottle (stored sealed, of course) for up to three or four months. It comes in sweet and dry versions (and even the dry is still a little sweet). For this recipe, the dry is preferred.