A new USA Character Approved Blog post and women chefs raise money for the Greater Chicago Food Depository at the 15th annual Girl Food Dinner.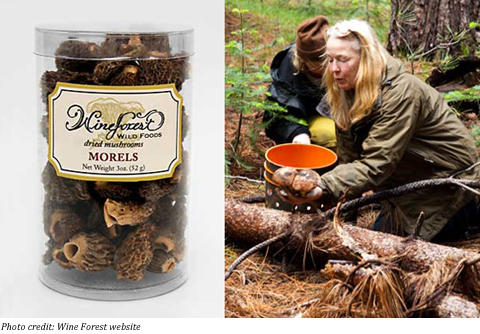 We occasionally pick up mushrooms at our local farmers market. Often when we do, we learn that they had been growing somewhere in the woods until earlier that very morning. Welcome to the world of professional foraging. As chefs and restaurants get more locavore and more adventurous, ingredients gathered from forests and meadows are turning up on more and more menus. And a whole new job title is springing up on resumes—professional forager.
Well, not so new for some. Connie Green (pictured above), founder of Wine Forest Wild Foods, started gathering wild chanterelles for leading San Francisco Bay Area restaurants back in 1979. And recently, she's started offering home cooks access to some of her wild bounty. You can order foraged and cultivated fresh, frozen and dried mushrooms as well as other woodland delicacies sure to impress your dinner guests from the Wine Forest website. For a link to her website—and to see what legendary chef has Green in his speed dial—check out my latest post on the USA Character Approved Blog.
Girl Food Dinner: Fight hunger with your fork
Fight hunger for yourself and your fellow Chicagoans. On Sunday, May 15, Drew and Sandra Goss will host their 15th annual Girl Food Dinner at their West Town Tavern. Since beginning this annual event, the couple has raised and donated more than $165,000 to groups fighting hunger. The proceeds from this year's dinner will benefit the Greater Chicago Food Depository. Over the past three years, pantries, soup kitchens and shelters have seen a 64% increase in Chicagoans needing emergency and supplemental food. The Food Depository is a leading local force in providing this aid.
This year's dinner will feature a five-course meal prepared by five of Chicago's top women chefs: Nadia Tilkian of Maijean, Meg Colleran Sahs of Terzo Piano, Sarah Grueneberg of Spiaggia, Susan Goss of West Town Tavern and Jessica Oloroso of Black Dog Gelato. Each course will feature a wine pairing. The popular Girl Food Dinner always sells out. For reservations, visit the Greater Chicago Food Depository website today.