The nation's first certified organic rooftop farm and a sustainable fishing success story are subjects of a pair of recent USA Character Approved Blog posts.
The last two weekends have found us at garden centers. We don't do a lot of gardening (and by we, I of course mean Marion—I mostly just carry the occasional bag of cow manure), but garden centers are always inspiring. They instill hope for the spring that continues to merely flirt with us. Standing in the checkout line with our half dozen tomato plants and about as many herbs got me thinking about the resurgence of urban farming in the last few years. One of the most exciting places urban farming is happening right now is on the roof of a Chicago restaurant.
Sure, there are any number of rooftop gardens. And a few are ambitious enough to be called urban farms. But the intensely planted 2,500 square foot roof of Uncommon Ground, a restaurant in the Edgewater neighborhood, was certified in 2008 as the country's first organic rooftop farm.
Uncommon Ground owners Helen and Michael Cameron had always taken a sustainable farm-to-table approach at their first location in the Wrigleyville neighborhood. So when they started planning their second restaurant, they decided to take farm-to-table to the next level, roof-to-table. To find out how the Camerons are using their rooftop farm to improve the food at Uncommon Ground—and to help the neighborhood—check out my post on the USA Character Approved Blog.
The Red Lake Chippewa bring back the walleye—and sustain a traditional way of life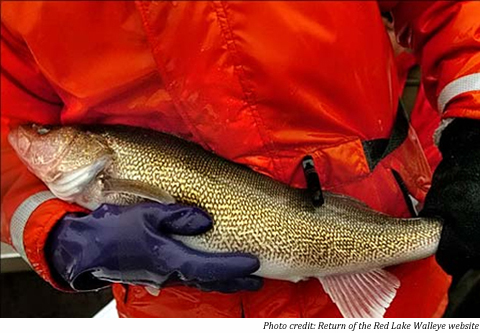 Last week, I wrote about some delicious fish fillets we got to try from Red Lake Fishery in northern Minnesota. I said then that fish are the last wild-caught food the world eats on a regular basis, and that much of the world's fish population is being threatened by unsustainable practices and simple overfishing.
The Red Lake Chippewa Indians saw this happening with the walleye in the lake that had fed them for centuries. So they took drastic measures, including a moratorium on fishing for several years, to rebuild the walleye population. Then they abandoned modern fishing techniques in favor of traditional hook-and-line fishing, catching the walleye one at a time, ensuring that the lake will continue to have a strong fish population for years to come. And several hundred tribal fishermen and women support themselves and their families this way. To read more about the amazing comeback of the Red Lake Walleye—and how to buy the wonderfully fresh fish and other goods produced by Red Lake Nation Foods—check out my latest post on the USA Character Approved Blog.