From tea-smoked chicken to lamb feta burgers and a classic Alabama white sauce, here are five great recipes to liven up your summer grilling.
For Americans everywhere, the 4th of July weekend is a time to declare independence from the kitchen stove and fire up the grill. For Marion and me, this weekend was more about the freedom of the road—some 700 miles of it, without a kitchen in sight. So this week, I'm serving up grilling recipes from the Blue Kitchen archives.
1. Grilled Lamb Feta Burgers with Light Rémoulade
This is a truly American burger, in that it happily borrows ingredients from other cultures and then reinvents them. The lamb and feta from Greece and the creamy, tangy rémoulade from France (with Greek nonfat yogurt standing in for mayonnaise). Grilled Lamb Feta Burgers are a flavorful change from classic beef burgers, and the  light rémoulade, with parsley, garlic, capers and whole grain mustard really livens things up.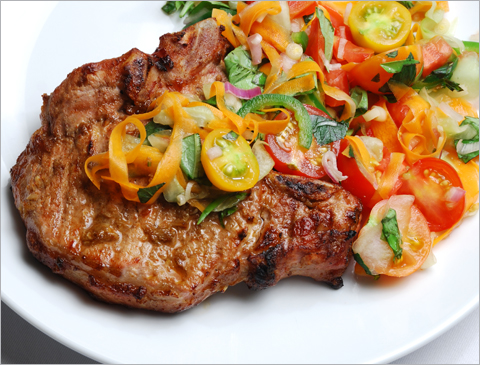 2. Asian Grilled Pork Chops with Asian Slaw
Pork chops are perhaps the perfect grilling food. They play nicely with all sorts of marinades—here, they're teamed up with soy sauce, sesame oil, lime juice, ginger, garlic and cayenne pepper—and the smokiness of the grill really brings out the meat's savory richness.  Pork chops also pair beautifully with the sweet/tart/tangy flavors of Marion's Asian Slaw, with carrots, cucumbers, tomatoes, jalapeño peppers, lemongrass, lime juice and basil. You'll find both recipes here.
3. Alabama White Sauce, with Grilled Chicken
Regular readers know I'm often finding ways around mayonnaise in recipes—the lamb feta burgers above substitutes Greek yogurt and olive oil for the fatty white stuff. But sometimes, you just can't hold the mayo. This iconic sauce, invented by former railroad man Big Bob Gibson in 1925, combines it with cider vinegar and horseradish to create the surprisingly subtle, deservedly famous Alabama White Sauce. It's great on pork, beef or, as seen here, grilled chicken.
4. Grilled Pork Roast with Mustard and Fresh Herbs
I've done my share of chops, steaks, burgers and assorted chicken parts on the grill. I'm not sure what took me so long to get around to doing a whole roast. All it takes is slow, indirect grilling to cook the meat through, and the smoky, tender meat greatly rewards your patience. A rub of Dijon mustard, fresh herbs (sage, rosemary and thyme, in this case), salt and garlic adds further flavor to this boneless pork shoulder roast.
5. Tea-smoked Grilled Chicken with Star Anise & Orange
You can keep your wood chips. The delicate, complex flavors created by a foil pouch of tea leaves, Asian aromatics, orange zest and a few other simple ingredients can't be matched by mere mesquite. It's wonderfully foolproof too—no need to soak chips and still worry about them catching fire. Tea-smoking produces a reliable source of fragrant smoke that imbues the meat with a deliciously mysterious quality that will have diners asking for seconds—and for the recipe.