Adapted from a staff meal at Atlanta's Bacchanalia, mussels are quickly baked over sautéed scallions, garlic, parsley, oregano, saffron and tomatoes. Recipe below.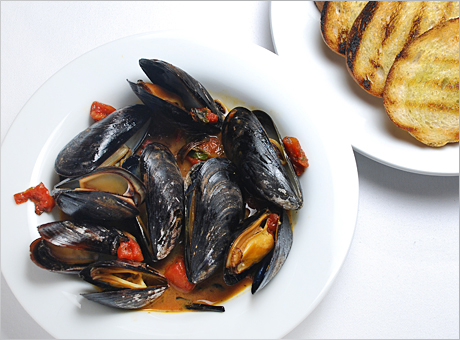 Open kitchens in restaurants are popular for one reason: We all like a peek behind the culinary curtain into the world of chefs, sous chefs, line cooks and even dishwashers. And I'm not just speaking of high-end restaurants where tables in the kitchen come at a premium price. I remember a lunch years ago at the counter at Heaven on Seven in Chicago, watching line cooks crank out order after order with practiced skill, plating the food beautifully and effortlessly and tossing used skillets, still hot, into a deep stainless sink. The hostess apologized for not having a table for me during the busy lunch hour, but I was in, well, heaven at the counter.
So imagine my delight when I heard about Marissa Guggiana's new cookbook, Off the Menu: Staff Meals from America's Top Restaurants, published last month by Welcome Books. This is the ultimate peek behind the curtain. It's not just watching chefs cook, it's getting to see what they cook for their staffs before the restaurant opens.
To write Off the Menu, Guggiana traveled the country, visiting the kitchens of more than 50 top restaurants, sampling and documenting staff meals. The result is this beautiful cookbook with more than 100 recipes, all adapted for the home cook. Thoughtful writing and charming photos—more than 160 of them—give readers an intimate glimpse of life in professional kitchens.
Guggiana is a food activist, writer and fourth generation meat purveyor. In 2011, she co-founded The Butcher's Guild, a national organization promoting and supporting artisanal butchery. Her first book, Primal Cuts: Cooking with America's Best Butchers, profiles fifty innovative whole-animal butchers and chefs and shares their most impressive recipes.
For my first Off the Menu meal, I chose a recipe by Russ Moore, chef/owner of Camino in Oakland, California and former chef at Alice Water's Chez Panisse's Café. The recipe is based on his Baked Clams with Chilies, Saffron and Tomatoes. Moore uses his house-canned tomatoes. I used purchased canned tomatoes—and more available, more affordable mussels.
Baked Mussels with Saffron and Tomatoes
Serves 2 to 3
2 pounds mussels
3 scallions
3 sprigs flat Italian parsley
2 tablespoons olive oil
4 cloves garlic, thinly sliced
1/4 teaspoon crushed red pepper flakes (or more, to taste)
2 bay leaves
pinch of saffron threads
1 cup diced canned tomatoes, mostly drained
1 teaspoon dried oregano
1/2 cup white wine
splash of water
grilled bread
Preheat oven to 450ºF. Scrub mussels with a brush under cold running water and debeard them, pulling off any threads on the hinge side. Discard any open mussels that don't close shortly after being tapped on the counter.
Slice scallions on a diagonal into 1-inch pieces, including the green tops. Pick leaves from parsley sprigs—you want about 1/3 cup, loosely packed. Heat olive oil in a large, ovenproof sauté pan over medium-high flame. Add scallions and cook, stirring occasionally, until they begin to soften and brown slightly, about 3 minutes. Add garlic, red pepper flakes, bay leaves and saffron to the pan and continue cooking, stirring occasionally, until onion is soft, about five minutes. Onions and garlic will brown alarmingly—that's okay (see Kitchen Notes).
Add tomatoes, parsley leaves and oregano to pan and cook for about 5 minutes, stirring occasionally. There will be lots of spattering at first. That is also okay, but you may want an apron. Add wine and a splash of water. Again with the spattering. Add mussels, as much in a single layer as possible. Transfer pan to oven and bake 5 to 10 minutes, or until mussels open. (Discard any that don't open.)
Meanwhile, grill some bread. Heat a grilling pan over medium-high flame. Brush the pan and some slices of bread with olive oil. grill the bread for 2 to 3 minutes per side. Depending on the size of the bread, you want about 2 slices per serving to sop up the delicious juices of this dish.
Divide mussels among shallow serving bowls and spoon tomatoes and juices over them. Serve. Alternatively, you can serve them in one big communal bowl. In any case, make sure you have a large bowl for discarding the shells. By the way, a shell half is a fun, decadent utensil for scooping up any of the delicious broth you don't sop up with the grilled bread.
Kitchen Notes
Don't fear the darkness. When it comes to vegetables and aromatics, I've always been about sweating or maybe lightly browning. The scallions in this dish definitely browned and even got charred in places. Some of the garlic slices blackened. Some of the tomatoes started sticking to the pan a bit. That's not only okay, it's a good thing. It gave a wonderful depth and edge to the dish. In fact, hours after cooking this meal, I'm not smelling mussels in the kitchen. I'm smelling well cooked scallions. They smell delicious.