Leftover celery teams up with chicken, carrots, tomato paste and rice to become Minestra del Sedano, a satisfying meal in a bowl (recipe below). And a pair of utilitarian holiday gifts lead to hidden urban treasure.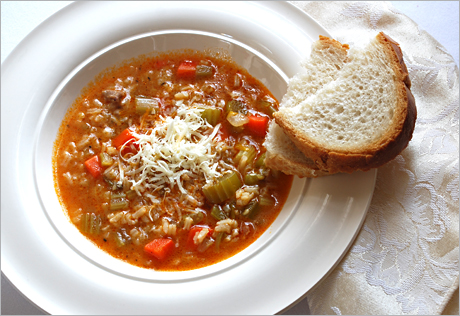 This time of year, food magazines, websites and blogs are awash in holiday recipes. How to make the perfect Hanukkah latke or Christmas roast, countless cookie recipes, vegan holiday menus… Sometimes, I've jumped into the fray, with Hazelnut Rosemary Jam Cookies, a Cherry Orange Loaf Cake inspired by a gift my grandmother received as a child and even a dinner for two for friends spending their first married Christmas together.
Other years, I've skipped recipes in favor of my grandmother's story, a poem remembered from grade school and even our non-traditional traditional Christmas Eve dinner (and yes, we're going again this year).
So I was aghast when I realized that this simple soup—delicious, hearty fare, but not holiday fodder by any stretch—was timed to be my holiday post, written the first night of Hanukkah and appearing just five days before Christmas. It seemed an especially strange thing to post given that its origins were based in frugality, not wanting to waste some celery. But suddenly, it made perfect sense.
Marion and I are terrible to buy gifts for. When people ask us what we want—indeed, when we ask each other—our answers are always the same. "I don't know." And we don't. If you asked me to come up with a holiday wish list right now, I would draw a blank. Casting about for what we could get for each other this year, Marion came up with a couple of practical ideas that introduced us to a pair of hidden treasures in Chicago.
First, we have a collection of French copper cooking pots lugged home over the years from Paris. They are amazing pots that have served us well and earned the envy of one of the best cooks we personally know. But through years of use—and in one case, misadventure—the tin linings had worn dangerously thin. One we couldn't even cook with anymore. We'd looked into having them retinned in the past and gotten quotes that were more than we'd paid for the pots.
Then Marion found Archer Tinning & Retinning. Set among shipping container yards along 47th Street in Chicago's Back of the Yards neighborhood, it is a throwback to small industrial businesses that once flourished in cities everywhere. You enter through a little corrugated metal door cut into a larger garage door right on the street. And when you do, you're in the heart of the workspace, loud, dusty and looking every bit of its 80 years in business. The cramped, cluttered office is tucked in one corner, up a small flight of wood stairs.
Retinning people's cherished copper pots is just a small part of their business. Much of their work is industrial and military. But they do beautiful work at a great price. And they couldn't have been nicer to work with. Our pots are back home, shiny and ready to cook great meals again. Almost as cool, our trip to Archer Tinning & Retinning reminded us of various little businesses like this from our childhoods. Places that sharpened lawnmowers, rewired lamps, repaired TVs, clocks and sewing machines—made things work that our parents weren't ready to throw away.
I said we're tough to shop for. But that doesn't mean we don't buy things. We sometimes scour flea markets, junk shops, thrift stores and other odd places, on the prowl for something in particular or for nothing in particular. Some time ago, we came across a pair of vintage rush seated chairs on eBay. The seller may have told us they were French—I can't remember now. When we got them home from the Greyhound station where they'd been shipped, we noticed two things about them: They were beautiful, and they were rickety. Really rickety, as in don't-sit-on-them rickety.
Not a problem. Nothing was broken—even the rush seats were in great condition. The joints just needed regluing. And that led us to our next Chicago find, Chicago Furniture Revival. This company is only three years old, but it shares a common spirit with Archer Tinning, I think. They both take wonderful old things and make them new again. Dan Snyder, one of the partners, showed us a couple of modernist chairs he and Garth Borovicka had redone, one an alley find, the other a piece a client had bought at auction for $5,000. He spoke of them with equal pride.
At first glance, Dan said our chairs were indeed French and were like some he'd done for another customer. Looking closer, he said ours were better, showing us clues that the back legs were hand carved, not turned on a lathe.
Chicago Furniture Revival is in another industrial section of Chicago, due west from downtown. It's in one of those loft-style brick buildings with huge windows and high ceilings where you immediately want to live. In this case, the ceilings are high enough to accommodate a circus school. We know because one of the proprietors of the aloft loft let us into the building with our chairs and helped us find Dan and Garth's shop. Pretty much the rest of the day we were smiling, thinking of finally getting our chairs ready to sit on and of a circus school tucked in a random corner of the city.
But you're here for the soup, aren't you? One of the things that bugs me about cooking is buying a fresh ingredient for a recipe, using only a little and later finding the withering remains in the fridge. It happens a lot with fresh herbs, I'm ashamed to admit. But for some reason, the thing that galls me the most is throwing out the wilted carcass of a stalk of celery from which I've only used a rib or two.
So recently, after using a couple of ribs of celery from a fresh stalk for a pot of chili, I was determined to use up the rest of it. My first thought was celery soup. Doing a quick online search, I mostly found various puréed versions. I'm sure they're lovely, but I was in the mood for soup with chunks of stuff in it.
Then I came across a recipe for minestra del sedano, Italian celery soup, posted by my friend Lydia at Soup Chick. It called for about twice the celery I had on hand and fewer other ingredients (no chicken or carrots, for instance). I'm guessing with my tinkering, I've actually veered a good distance from true Italian celery soup. But I used up all the celery I had on hand, and we ate well that night. Again, not a holidayworthy meal, but a good one. Happy holidays, everyone. Eat well.
Italian Celery Soup
Serves 3 to 4
2 tablespoons olive oil
3 slices of bacon, cut crosswise into matchsticks
1 medium onion, chopped
1 large carrot, diced
1 whole stalk celery (not rib), cut into 1/2-inch pieces (5 to 6 cups)
2 tablespoons tomato paste
2 cups reduced sodium chicken broth
2 cups water (plus more, if needed)
2 bay leaves
1 piece of rind from a Parmesan cheese wedge (optional)
3 boneless skinless chicken thighs, chopped (about 1-1/2 cups)
1/2 cup uncooked white rice
salt and freshly ground black pepper, to taste
freshly grated Parmesan cheese
Heat oil in a lidded Dutch oven over a medium flame. Add bacon, onion and carrot and toss to combine and coat with oil. Cook until onion begins to soften, stirring occasionally, about 5 minutes. Stir in tomato paste and celery and cook for about 5 minutes, stirring occasionally.
Meanwhile, heat broth and water together in a separate pan. (This is a trick I picked up from Lydia—you don't have to wait for cold or room temperature broth to heat up when added to the soup pot if you do this.) Gradually add hot broth mixture to soup pot and add Parmesan rind and bay leaves. Bring to a boil, then reduce heat and simmer soup, covered, for 20 minutes.
Add chicken and rice and simmer, covered, for about 15 minutes. Adjust seasonings with salt and pepper. Be generous with the pepper, another tip from Lydia.
Ladle into individual bowls and top with grated Parmesan. Serve with a crusty bread.