Modern, non-exploding (and even programmable) pressure cookers and celebrating Women's History Month with the woman who launched Julia Child's career are the subjects of recent USA Character Approved Blog posts.
My mom had a pressure cooker. She loved it. But for the rest of us, it was kind of like having Mt. Vesuvius in your kitchen. You didn't know when it was going to blow, but you knew it would be bad. More than once, I remember my mom cleaning stew or pot roast or something off the kitchen ceiling. She took it in stride. Mom took lots of stuff in stride, as I recall.
Still, I have to think she'd love the new generation of pressure cookers. They're just as efficient at cooking foods up to 70 percent faster and don't involve as much potential drama. Find out more about these classic timesavers made safe in my latest post on the USA Character Approved Blog.
Women's History Month: Judith Jones gave us Julia—and herself a life in food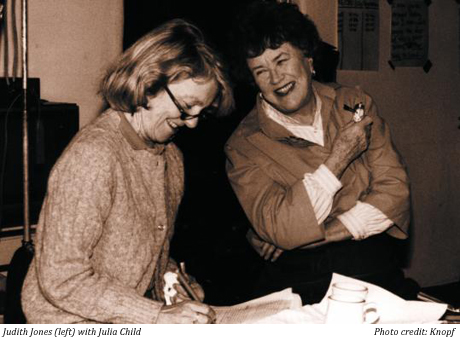 In some ways, celebrating a woman's accomplishments in the kitchen for this month seems regressive, especially given our current political climate. But Judith Jones's accomplishments were singular. For most of us, she's the editor who spotted Julia Child's genius in a cookbook other publishers had turned down and fought to have it recognized. Her editorial résumé extends far beyond Julia, though, both with other food writers and with one of the giants of 20th century American literature.
In her Manhattan kitchen, both with her husband and later on her own, Jones has cooked up quite a life. She's written a couple of stellar food-related books as well, her most recent being the warm and sensibly practical (much like Jones herself) The Pleasures of Cooking for One. You can read more about this amazing woman in my recent post celebrating Women's History Month on the USA Character Approved Blog.