October is Fair Trade Month, reminding us that buying Fair Trade Certified foods improves the quality of life for farmers and their communities—and the quality of the imported foods we eat.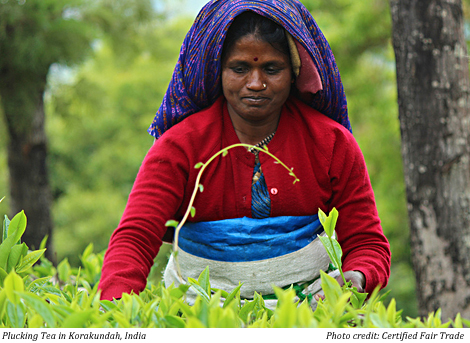 We were out of the kitchen last week on a food-focused road trip to Columbus, Ohio. Look for a new recipe next week—and a Columbus report soon.
Food is in an interesting place right now. Increasingly, we are urged to eat locally—and farmers markets, locavore chefs and even grocery stores are bringing us ways to do that. On the other hand, our palates have never been more global. Exotic spices, produce and pantry staples are transitioning from ethnic markets and gourmet shops to supermarket shelves. They're doing so because we're using them in our kitchens more and more. And then there are those staples so ingrained in our daily lives that we don't often even think of them as imported—coffee, chocolate, bananas, tea… But how these foods are grown, harvested and processed has a major impact on lives around the world. And on the health of the planet. That's where fair trade comes in.
At its most basic level, fair trade means making sure that farmers and workers in developing countries receive a fair price for their products and their labor. A global social movement today, it was started modestly in the 1940s by religious groups and politically oriented non-governmental organizations. At first, it focused mainly on handicrafts sold in small shops and at church events. Later, when the movement was used to advocate for exploited coffee pickers, it picked up considerable momentum. Today, you'll find fair trade products in just about every aisle of the grocery store—cocoa, sugar, tea, honey, fruits and vegetables, chocolate, flowers and spices, for example.
Fair trade's mission has grown too. Organizations like Fair Trade USA work with farmers to set higher environmental standards and promote sustainable practices. They help build sustainable businesses too, supporting business training for farmers. Women working on farms and plantations are guaranteed access to health care, certain job rights, and freedom from harassment; they're also given opportunities for education, leadership roles and scholarships that can lead to starting their own businesses. Education for entire communities is addressed, with revenues set aside for building schools and maintaining enrollment.
For Stauf's Coffee Roasters in Columbus, the benefits of fair trade extend to the end consumer. We spoke with Stauf's president Mark Swanson on our recent visit. He says that when farmers receive a fair price for their coffee and can pay their workers a fair wage, everyone is more invested in the coffee they grow. Farmers become better stewards of the land; workers stay at one coffee farm longer, honing their skills. The end result is better coffee. These results are seen across the fair trade spectrum, with higher quality and safer products. And we all benefit from improved environmental practices.
How do you find fair trade products? There are several recognized fair trade certifiers, including Fairtrade International, EcoSocial and IMO. Here in the US, Fair Trade USA provides Fair Trade Certified labeling for products that meet its standards. Products with the mark shown here are 100% fair trade. Products carrying either the Fair Trade Certified Ingredient or Fair Trade Certified Ingredients mark must contain ingredients that make up at least 20% of the product. For a current list of Fair Trade USA's certified products and partners, including foods, spirits, apparel, body care and my favorite, sports balls, visit their website.
Celebrate fair trade this month and every month. Do more than eat well—look for fair trade certified "good eats."