Eggs baked with cream, tarragon and a compote of tomatoes, spinach and garlic are a simple vegetarian dish that feels luxurious and is infinitely tweakable. Recipe below.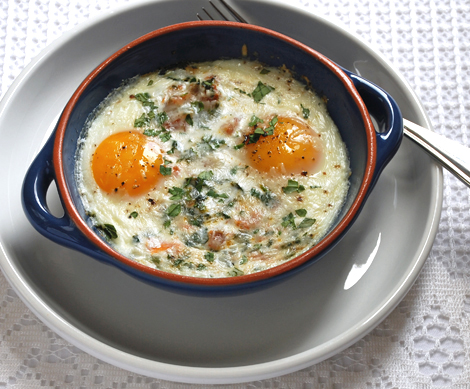 Columbus, Ohio is a city that invites walking, from German Village up through downtown, Victorian Village, Short North, the University District and beyond. Which is fortunate, because it also encourages overindulgence at just about every turn. Inspired food options abound, from locavore breakfast spots to taco truck tours and the best small batch ice cream I've ever eaten.
I visited Columbus for the first time last fall on a press tour (you'll find that story here), a guest of Experience Columbus, a non-profit organization that promotes the city as a travel destination. The tour was orchestrated by Weirick Communications, a Columbus-based tourism marketing firm. The city utterly charmed me, and not just because of the food. So a couple of weeks ago, Marion and I visited. It was her first time there, and she was as taken with the city as I was.
Before going, I contacted Amy Weirick and asked her if she could suggest a few restaurants I hadn't tried. Instead, she sent us a two-page itinerary of places for food, drinks, art and shopping with only one repeat from my original trip. A little full disclosure here: Experience Columbus also picked up the check at a number of our stops. But we would have been thrilled with the choices even if they hadn't.
Our first night in town, we started at Curio at Harvest, a dark, homey, curio-stuffed cocktail bar in German Village. The friendly bartenders served us inventive, expertly made cocktails while we waited for our table at Harvest Pizzeria next door. Above you see my rum-based Jack's Sparrow, with Swedish Punsch, bitters, lime and all spice, and Marion's gin-based The Dillinger, with Cocchi Americano, cucumber, dill, lime and agave.
Harvest Pizzeria perfectly reflects the intensely locavore mindset that shapes much of the Columbus food scene. Owner Chris Crader could tell us exactly where the key ingredients of our pizzas had come from, often stating the distance they had traveled in minutes rather than miles. The mushroom pizza, with Athens county mushrooms and Gouda made "about 20 minutes from here," is some of the best pizza we've ever eaten. And it was facing off that night with the Ohio Double Bacon pizza with fresh mozzarella and roasted red pepper. We bookended the pizzas with a kale Caesar salad (Get it? Kale, Caesar!) with toasted hazelnuts, which Marion dubbed brilliant, and apple pie made by Chris's mother.
We were instructed to "Save room for yakitori!" at Double Happiness, a "thoroughly modern bar" with small plates of Asian bar food. Unfortunately, we were so full of pizza that we could only manage cocktails. The drinks were served with a side of lively, friendly conversation with fellow patrons, a regular feature throughout the visit. A recurring theme of these spontaneous conversations was a love of the city. The tone was never civic booster in flavor—it was just sharing their excitement of being there. Many of the people had moved away at some point—for school, career, family or whatever—and had returned.
And that was just our first night. We had dinner the next night at Alana's Food and Wine, where Chef Alana Shock's daily changing menu focuses on local, seasonal ingredients. Her impressive résumé includes working at Emeril Lagasse's original restaurant in New Orleans. I had an Ohio Proud beef short rib on pumpkin polenta; Marion's non-vegetarian surprise (yes, it's listed on the menu that way, and no, they won't give you a hint) turned out to be a Flintstone club-sized pork chop with puréed parsnips. We took a coffee tour with Columbus Food Adventures, with caffeinated stops at Cafe Brioso, where Jeff Davis roasts his own beans in-store; Stauf's Coffee Roasters, where we learned the cupping practice roasters use when buying beans; and Luck Bros' Coffee House, where they shared tips on home brewing. We had a restorative breakfast of bigos, a Polish cabbage stew, from Hubert's Polish Kitchen in North Market, the city's wonderful year-round farmers market. We had a filling, delicious lunch at the bar at the Surly Girl Saloon—motto: Eat, Drink, Rock, Raise Hell.
We went off the official itinerary grid too, revisiting some spots from my first trip. We had stellar hot dogs at Dirty Frank's Hot Dog Palace, pictured above (also created by the owner of Surly Girl). There were late night scoops of ice cream bought at the mothership of Jeni's Splendid Ice Cream and consumed walking past closed Short North boutiques. And there were amazing Sugardaddy's blondies picked up on the way out of town.
The one official repeat on the itinerary was Pistacia Vera, a light-filled patisserie in German Village that smells like butter, sugar and coffee. They are rightly known for their sweet, airy macarons in many flavors and hues. We sampled some of those, of course, but we also wanted something a little more substantial. After all, it would be at least an hour before we had a chance to eat again. So we split an order of tomato Provençal baked eggs. Even before our first bite, I knew I had found an inspiration for a dish to cook.
This recipe is as much about technique as it is an actual recipe. Baked (or shirred) eggs are based on the classic French dish oeufs en cocotte, eggs baked in individual buttered baking dishes with milk or cream and served with salt and pepper at the table. They can be as simple as that and be delicious. Baked eggs lend themselves to all kinds of variations and dressing up, though—with fresh herbs, cheese, bits of ham or bacon or even store bought salsa. And for serving weekend house guests, they're actually easier to get to the table all at once (and still warm, thanks to the oven-heated ramekins) than making plain fried eggs for everyone. Best of all, serving them in individual baking dishes makes them seem special.
Here's my recipe. I encourage you to improvise and make it your own. But be careful to not overwhelm the eggs with too much volume of other ingredients. The finished dish should be eggs with something, not something with eggs.
Baked Eggs with Tomato and Spinach
Serves 2
For tomato spinach compote:
1 medium tomato
2 teaspoons olive oil
1 cup finely chopped baby spinach (about 1 ounce)
1 medium clove garlic, minced
salt and freshly ground pepper
1/2 teaspoon chopped fresh tarragon (or 1/4 teaspoon dried)
For eggs:
butter
4 large eggs
2 tablespoons cream (or milk)
salt and freshly ground pepper
2 tablespoons freshly grated Parmesan cheese
tomato spinach compote
1-1/2 teaspoons chopped fresh tarragon (or 1/2 teaspoon dried)
Special equipment: Individual baking dishes or large ovenproof ramekins
Preheat oven to 325°F with an oven rack in middle position.
Prepare the compote. Blanch the tomato by dropping it into a medium saucepan of boiling water. After 10 seconds, remove with a strainer and set aside to cool slightly. Empty saucepan and return to burner (turned off) to dry. Core and peel tomato, scoop out the seeds using your fingers and gently squeeze out any liquid from the tomato. Then dice the tomato; you should have about 1/2 to 3/4 cup.
Heat olive oil in saucepan over medium low flame. Add tomato, spinach and garlic to pan and toss to combine and coat with oil. Season with salt and pepper and add chopped tarragon. Cook, stirring frequently, for 3 to 5 minutes, then remove from heat and set aside. When it has cooled slightly, drain in a fine mesh strainer, pressing lightly with a wooden spoon to remove some of the liquid.
Prepare eggs. Lightly butter two small baking dishes. Break two eggs into each dish, being careful to not break yolks. Drizzle 1 tablespoon of cream over each dish (this will help keep the eggs from drying out). Season with salt and pepper. Sprinkle 1 tablespoon of Parmesan over each dish. Divide tomato spinach compote between the two baking dishes, carefully spooning between egg yolks. Sprinkle the fresh tarragon over eggs.
Bake 12 to 16 minutes. Check the eggs after about 10 minutes baking time. Rotate the dishes if the eggs aren't cooking evenly. When done, the whites should be completely set—not jiggly in the center—and the yolks beginning to thicken but not hard. (I found out just how unevenly our oven heats up—one dish was done about three minutes before the other.) The eggs will continue to cook after being removed from the oven. Remove from oven and serve immediately, with toast—or croissants or rolls. Don't forget that the baking dishes are hot—put them on a saucer or plate to serve.