Mushrooms marinated in soy sauce, brandy, garlic and Chinese five-spice powder replace half the lamb in these burgers, for a healthier, umami-rich and satisfyingly meaty meal (and yes, you can substitute ground beef for lamb). Recipe below.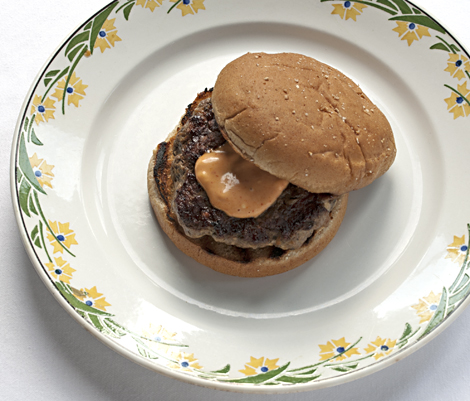 Tom Robbins advises us to "Breathe properly. Stay curious. And eat your beets." I'm not sure if I do the first and I've only in the last few years started doing the last, but I nail the one in the middle. Sports and actuarial tables aside, pretty much everything interests me, and I want to know more. I have what I call a magpie eye, always ready to latch on to some shiny new thing.
Which leads me to another quote—one of my favorites—by one of my favorite photographers, Walker Evans: "Stare. It is the way to educate your eye, and more. Stare, pry, listen, eavesdrop. Die knowing something. You are not here long." I've said here before that I'm not a great cook. But curiosity makes my good cooking better than it might otherwise be.
Curiosity is one of the reasons we look forward to the National Restaurant Association Show (the other NRA) every year. We're always looking for new cooking ideas being shared with restaurants that we can adapt for home kitchens. Frequently, the most interesting ideas come not from the major presentations, but from chance conversations with vendors in their booths. That was the case at last month's show.
As an aside, another reason we like going to the show is that, at almost every turn, someone is handing you something delicious to eat. At the To-Jo Mushrooms, Inc. booth, that something was a meatball. Pennsylvania-based To-Jo is a fourth generation, family-owned grower and distributor of fresh and processed mushrooms for restaurants, retail and the food service industry. They currently produce about 40 million pounds of white, brown and specialty mushrooms a year and, not surprisingly, are always developing new ways to use and market those mushrooms.
Hence the meatball. Meatballs are a staple of food service—for pasta, meatball sandwiches and, impaled on toothpicks, as hors d'oeuvres. To-Jo has created Bella Blended Meatballs, a frozen, microwavable 50/50 blend of sliced mushrooms and ground beef. They're significantly lower in fat, cholesterol and calories than all meat meatballs. And thanks to the earthiness of mushrooms, they're loaded with umami. My first thought biting into the meatball offered me at the NRA Show was, "Wow. This is really good." It was flavorful and moist, and the only reason I knew it had mushrooms in it was that I was told it did. Not that tasting mushrooms is a bad thing—we love mushrooms in just about any form. But they disappear into these meatballs, delivering a full-on meaty taste and texture with half the meat. I immediately knew I could do something with this idea.
The next umami-related thing that caught my magpie eye was an article in New York magazine. It seems that the Los Angeles-based Umami Burger is about to open in New York. Owner/founder Adam Fleischman ups the umami inherent in burgers with a mix of secret ingredients that likely includes everything from dried seaweed to cheeses and "stinky dried fish."
This recipe is a mashup of these two basic ideas, plus a few of my own. But it's more than a recipe. It's a technique that invites experimentation and improvisation: replacing a substantial portion of the meat—in burgers, meatballs, meatloaf—with finely chopped mushrooms.
I substituted lamb for beef because, when I tasted the meatball, I thought it would be great with lamb too. But feel free to use ground beef—I'm sure I'll try that sometime soon. I also took it from meatball to burger because it seemed like it would make a good one. And rather than up the umami of the meat, as Fleischman does, I decided to boost the umami of the mushrooms, marinating them in soy sauce, garlic, sherry and Chinese five-spice powder (okay, only the soy sauce and garlic add umami—the others were just flavors that sounded good at the moment).
I cooked the burgers in a grill pan. You could cook them on a grill as well, but I wanted to taste them without the enhancement of smoke to better judge the flavor. You can also sauté them in a skillet.
Even entrenched meatlovers like me are trying to cut back on meat consumption these days, for personal health and the health of the planet. These burgers deliver a satisfyingly meaty experience with little more than 2-1/2 ounces of actual meat each.
Mushroom Lamb Burger
Makes 3 burgers
8 ounces sliced mushrooms (I used button mushrooms)
1/4 cup reduced-sodium soy sauce
2 tablespoons sherry
2 cloves garlic, minced
1/4 teaspoon Chinese five-spice powder (optional)
8 ounces ground lamb
freshly ground black pepper
canola oil
3 burger buns
Prepare the mushrooms. Place sliced mushrooms in a 1-gallon zippered plastic bag. Whisk soy sauce, sherry, garlic and five-spice powder together in a small bowl and pour over mushrooms. Seal the bag, forcing out as much air as possible, and make sure marinade is coating all the mushroom slices. Set aside and let marinate for 1 to 3 hours, turning the bag a few times in the process to evenly marinate.
Drain mushrooms in colander, discarding marinade. Arrange on a double layer of paper towels, top with another layer of paper towels and press gently to squeeze out excess marinade and moisture. Roughly chop mushrooms and transfer to bowl of a food processor. Pulse 3 to 4 times, scraping down the sides of the bowl as needed, to coarsely grind the mushrooms. Do not overprocess—you don't want a pulpy mess.
Make the burgers. Combine the mushrooms and ground lamb in a large bowl. Using your hands, work them together until just blended. It will feel not unlike mixing meatloaf ingredients. Form three patties on the thickish side. Using your thumb, press a dimple into the center of each patty on one side; this will keep them from becoming too thick in the middle when they're cooked. Season generously with freshly ground pepper, but do not salt—the soy sauce packs plenty of salt.
Heat a grill pan over medium-high flame. Brush with oil and grill the insides of the buns, if desired, in batches. Set aside. Brush the pan with more oil and grill the burgers 4 minutes on one side. Flip and grill for 3 minutes on the other side. Transfer to plated buns and serve with your favorite condiments. We used Sriracha mayo, one part Sriracha hot chili sauce to three parts mayonnaise.