Chanterelle mushrooms, shallots, thyme, half & half, sherry and plenty of butter create a rich, creamy, earthy soup. Recipe (and mushroom substitutions) below.
A couple of times on our recent trip to Seattle, I wondered about the city's name and its origin. More germane to our visit, however, is the fact that the word 'eat' is right in the middle of the name. In our short time there, it seemed we were constantly eating something delicious, talking about some delicious thing we'd just eaten or contemplating what delicious thing we would be putting in our mouths next. Fortunately for us, downtown Seattle is one giant StairMaster. We didn't burn off all the glorious calories we consumed, but we at least made a tiny, doughy dent.
After an extravagantly delayed flight, cutting-edge inefficiency at the car rental pickup and our GPS device's refusal to accept that we were not still in Chicago (and the attendant instructions on how to make the 29-hour drive from Chicago to Seattle), we finally checked into our hotel in the late afternoon. Then we headed straight out for oysters.
From our hotel, it was just a few blocks—downhill, as it happens—to Seattle's famed Pike Place Market. We met our friends (former Chicagoans) Roger and Bobbie there, and they directed us to Emmett Watson's Oyster Bar. There, despite the fact that we were all going to dinner in an hour and a half, the four of us shared two dozen oysters, absolutely fresh and briny. As the oysters and lively conversation (and a couple glasses of wine) entered our systems, Marion and I felt our travel stress exit.
Dinner was at the brand new Westward & Little Gull Grocery in Lake Union. Make that on Lake Union. As Bethany Jean Clement put it in The Stranger, "If you have a boat, you can boat right up to both, eat/drink, then boat away, you lucky bastard." We arrived by rented Camry and were joined by our friend Elizabeth, a Seattle native.
Westward is a "water-inspired" restaurant and bar serving contemporary Mediterranean cuisine in a relaxed, nautically-themed space. Its sibling Little Gull Grocery is a 22-seat oyster bar and grocery. Among the things that covered our Westward table and filled our bellies were radishes with goat butter and smoked salt, charcuterie, grilled mackerel, wild boar meatballs, wood roasted chicken and braised lamb shoulder.
We started the next morning, as we did all three mornings in Seattle, at the coffee shop attached to our hotel, Moore Coffee Seattle. Besides excellent Caffe D'arte coffee for Marion and acceptable Diet Coke for me (I prefer Diet Pepsi), they served tamales for breakfast. Not breakfast tamales. These were chicken and pork tamales, served for breakfast, probably made by one of the employees' moms and amazingly delicious.
Our first full day in town, we actually left town, driving 30 miles north of Seattle and taking a car ferry to Whidbey Island with Roger and Bobbie. The 35 mile-long island is home to a naval air station, numerous state parks, a national historic reserve, the Hedgebrook writing retreat for women that we covered recently and a sprinkling of quaint towns.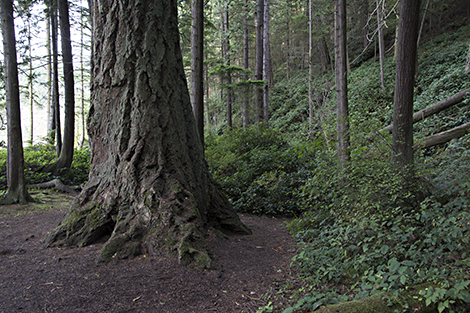 Of course, we had to stop for food in a couple of those quaint towns. Small but necessary scoops of Italian gelato at Sweet Mona's Chocolate Boutique in Langley, for instance. And a leisurely, late lunch at Toby's Tavern in Coupeville. Toby's is a comfortably ramshackle bar that faces out onto Penn Cove. So the two pounds of Penn Cove mussels we shared were as fresh as they get. We also shared piles of garlic toast (for sopping up the mussels broth), steaming chowder and excellent fish and chips. We left Toby's as stuffed as the taxidermied heads that line the walls.
Some more things we ate in Seattle. The best pizza we have ever eaten, at the aptly named Serious Pie. Prolific restaurateur Tom Douglas has been credited with leading the way in upping Seattle's culinary game, and this
always crowded pizzeria shows you why. Four of us shared three pizzas. None of us could pick a favorite—or think of a pizza we'd eaten anywhere else that even came close.
Also quite possibly the best doughnuts we've ever eaten. We ate at Top Pot Doughnuts twice and bought T-shirts. Yes, their "hand-forged" doughnuts are that good. They're rightly included in Saveur magazine's roundup of "America's 50 Best Donuts." Top Pot offers more than 40 varieties, from old-fashioned and cake doughnuts to pink-iced, coconut-topped feather boas. They're also known for their coffee, roasted in-house in small batches. Probably the loneliest job there is held by the person trying to convince doughnut and coffee seekers that what they really want is the also delicious looking "hand-forged" ice creams and frozen yogurts.
There were more raw oysters and clam chowder happily eaten at the laughably narrow stainless steel counter at Jack's Fish Spot in Pike Place Market. A satisfying, handmade roast beef club sandwich, just $6 and also from Moore Coffee Seattle, shared in our room during a quick afternoon break. Another amazing dinner at another amazing new restaurant, Sitka & Spruce. Marion will cover this in a future post.
And then there's the Seattle we brought home to eat. On our first visit a few years ago, Marion spotted gorgeous chanterelle mushrooms for about a third of what the anemic ones we were seeing back home were going for. Space was made in our carry-on luggage for several pounds. Marion wrote about the Sautéed Chanterelles with Cream and Linguine Fini she made with some of those well-traveled mushrooms.
This visit, we upped the ante, bringing home chanterelles and lobster mushrooms. (Be forewarned, mushrooms are going to be featured here the next few weeks.) The source of our mushrooms both visits was Sosio's Fruit and Produce, a Pike Place Market mainstay for more than 50 years. Early Sunday morning, as the market was just waking up, Sosio's co-owner Mike Osborn carefully packed our mushrooms for travel.
For the first dish using the mushrooms, I wanted them to take center stage. Mushroom soup seemed like a great way to make that happen. As he packed our mushrooms, Mike mentioned the fruity quality of chanterelles. When I opened the package, the kitchen filled with the smell of fresh fruit.
In this soup, the sherry enhances the underlying fruitiness. If you substitute other mushrooms, it will supply some of that flavor on its own.
Oh. And Seattle, inhabited by Native Americans for more than 4,000 years before Europeans arrived, was named for Chief Si'ahl of the local Duwamish tribe.
Creamy Chanterelle Soup
Serves 2 to 4 (see Kitchen Notes)
8 ounces chanterelle mushrooms, divided (see Kitchen Notes for substitutions)
4 tablespoons unsalted butter, divided
1 large shallot, chopped (or medium onion)
1 large clove garlic, minced
2 teaspoons fresh thyme leaves (or 1/2 teaspoon dry thyme)
2 tablespoons flour
olive oil, if needed
1/3 cup dry sherry
2 cups chicken broth, unsalted or reduced sodium
2 cups half & half
salt
Clean mushrooms, brushing lightly with a paper towel or cloth (chanterelles in general are not especially dirty—the ones from Sosio's were virtually spotless). Set aside 2 ounces of the smallest mushrooms. With the remaining mushrooms, tear or coarsely chop the larger ones into chunks. (To tear chanterelles, just grasp opposite edges of the cap and pull apart; they'll tear easily down through the stem.)
Melt 3 tablespoons butter in a heavy stock pot or Dutch oven over medium flame. Sweat the shallot until translucent and softened, stirring frequently, 2 to 3 minutes. Add mushrooms and toss to coat with butter. Cook for about 5 minutes, stirring frequently, until mushroom juices evaporate. Clear a space in the middle of the pan and add garlic and thyme. Cook until fragrant, about 45 seconds, stirring. Add flour and cook, stirring constantly, for 1 minute (drizzle a little olive oil into the flour, if pot is too dry).
Add sherry to pan, tossing to coat mushrooms and scraping up browned bits. Cook for 2 minutes, until sherry is almost evaporated. Add chicken broth and half & half. Bring to a boil, then reduce to a simmer and cook 20 to 30 minutes, uncovered, stirring occasionally. (A skin will occasionally form on the soup, thanks to the half & half; don't worry, just stir it back into the soup.) When soup is cooked, carefully purée in 2 batches in a food processor. You should have about 4 cups of soup. Return to pot, cover and set aside.
Melt remaining tablespoon of butter in a medium fry pan over medium heat. Add remaining mushrooms and sauté for about 5 minutes, stirring occasionally. Meanwhile, reheat soup gently, if necessary. Taste and adjust seasonings with salt.
Ladle soup into individual bowls and top with sautéed mushrooms. Serve.
Kitchen Notes
First, we have a winner. The randomly chosen winner of the Hedgebrook Cookbook: Celebrating Radical Hospitality was Angela, a regular Blue Kitchen reader and creator of the excellent blog Spinach Tiger. Congratulations, Angela, and thanks to everyone who entered.
How many servings? This recipe will serve four as a small first course, three as a generous side with sandwiches for lunch. Or two can devour the entire pot as dinner, with or without a salad, as we did late one night.
Chanterelle stand-ins. Chanterelles really do elevate this soup, but they can be hard to find and pricey. Portobellos or crimini mushrooms (small portobellos) will bring big flavor to the soup. In a pinch, plain white or button mushrooms will work.
Getting chanterelles from Washington state. Mike at Sosio's Fruit and Produce was telling us he will ship their glorious chanterelles anywhere in the US (I'm assuming lower 48). He gave a price of about $150 for 10 pounds, shipping included. So if you could line up some friends to share mushrooms, you might be in business.
Make it vegetarian. Just substitute vegetarian broth or water for the chicken broth.