Pantry and freezer staples—jarred marinated artichoke hearts, green olives, Italian sausage, tomato paste and pasta—create a weeknight-quick, rustic Italian meal. Recipe below.
New York is a feast every time we're there. On arrival, it puts our senses on high alert and keeps them there, in a good way, until we leave. There is always something to see, hear, do… always.
Our recent four-day visit was no exception. As always, we arrived with an overly ambitious list of things to do. As always, some went undone, often replaced by new things we learned about on the fly. And as always, the longest part of the list was devoted to art.

We visited old favorites and found new ones at the Museum of Modern Art. We trekked down to Chelsea to see just three gallery exhibits (because that's all the time we had). Two were shows of new work by sculptor Richard Serra, one in each of Gogosian Gallery's two Chelsea locations. This piece, Serra's Inside Out, two massive, intertwined, sinuous walls of COR-TEN steel that invite you to get lost inside them, was perhaps the most moving piece I saw in a weekend of amazing art.
From there, we hurried back to the Upper East Side to meet up with our friends Gloria and Jeff at The Jewish Museum to see Art Spiegelman's Co-Mix: A Retrospective. Best known for Maus, his Pulitzer prize-winning graphic novel about the Holocaust, Spiegelman has created everything from underground comix to powerful New Yorker magazine covers and children's books.
Next, it was off to the Guggenheim for another retrospective, Carrie Mae Weems: Three Decades of Photography and Video. We were all familiar with the African American photographer's work—or so we thought. Seeing such a vast body of her work, some pieces accompanied by text she'd written for them and that had never been shown with the work when we'd seen it previously, greatly expanded our respect for Weems.
And there was food, of course. Street hot dogs pragmatically (and happily) consumed as fuel. A generous pound of fresh cherries from another street vendor. (When he threw the sack on the scale and it registered close to a pound and a half, he just shrugged and said, "Eh, I give you a little extra.") Serviceable slices from a pizza place right at our neighborhood subway stop. Continental breakfasts in the morning and wine and cheese in the afternoon at the always welcoming Franklin Hotel, a place we think of as home more with each visit.
Restaurant meals included delicious farm-to-table fare with an ironic wink and a nod at Alder. Our traditional lunch of fiery Korean chicken wings at KyoChon Chicken. A quiet, lingering dinner at the Peruvian/American restaurant Village Pisco. And my favorite meal of the trip, dinner at the always bustling French bistro Lucien, in the East Village. We try to get there every visit, and even though it's usually only every year or so, we're always treated like regulars. If we lived in New York, we would be.
Finally, there are New Yorkers themselves. They get an undeserved bad rap for being cold and aloof. We find them just the opposite, always ready to engage in conversation on just about any topic. On her blog 9591 Iris | where I come from, Marion shared some snippets of conversation with random strangers on this trip. Even better was finally meeting our Facebook friend Bruce in person. He lives on the Upper West Side, but willingly traveled to Luke's Lobster's Upper East Side outpost for an early lunch of lobster rolls on Sunday before we headed to LaGuardia to return home. Having now broken bread—and delicious chunks of lobster—together, I know we will be seeing him again.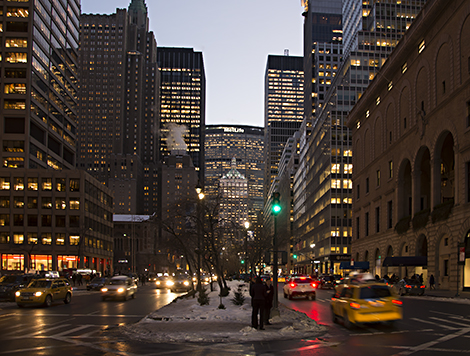 Our first night back home, we got carryouts. It was just easier, with unpacking and laundry and everything else. But the next night, we wanted something cooked at home. Nothing too involved or requiring a trip to the grocery store, but something made in our kitchen and eaten from our dishes. So in the morning, before leaving for work, I moved a small lump of spicy Italian sausage from the freezer to the fridge to thaw, made sure we had an onion and some garlic and found a few more ingredients in the pantry. We were set.
Spaghetti with Artichoke Hearts, Sausage and Olives
Serves 2 generously (see Kitchen Notes)
3 tablespoons olive oil
6 ounces spicy Italian sausage (see Kitchen Notes)
1 medium onion, chopped
1 large clove garlic, minced
1/4 cup tomato paste
6-ounce jar marinated artichoke hearts, drained
1/2 roughly chopped green olives
salt and freshly ground black pepper
8 ounces uncooked dry spaghetti
Start a large pot of water to cook pasta. While water is coming to a boil, prep the other ingredients. As the water reaches boiling, heat olive oil in medium sauté pan over medium flame. Salt pasta water generously and start cooking pasta.
Add sausage to sauté pan and cook, stirring frequently and breaking up meat with a wooden spoon, for about 2 minutes. Make a hole in the middle of the pan and add onion. Cook, stirring frequently, for about 2 minutes. Toss onion and sausage to combine, then make another hole and cook garlic until fragrant, about 45 seconds. Mix everything together, then make one last hole and add tomato paste. Cook paste for 1 or 2 minutes, pressing it into the pan to brown slightly.
Add a ladleful of pasta water to the pan (about 1/2 cup). Add artichoke hearts and olives and toss everything to combine. Reduce heat to low. Season lightly with salt and generously with black pepper.
When pasta is on the very al dente side of done, drain (reserving additional pasta water) and add to sauté pan. Toss to combine and let cook for a minute or so to let pasta absorb some of the sauce, adding more pasta water by tablespoonfuls as needed (I added about 3 tablespoons). There won't be a sauce per se with this dish; it's more a coloring and coating (and flavoring) of the pasta.
Taste and adjust seasonings. Divide between two shallow bowls and serve.
Kitchen Notes
How many servings? As a meal, we got two servings with lunch-for-one leftovers.
Spice things up. You really do want a little heat from this dish. If you only have mild Italian sausage, add some crushed red pepper flakes, maybe a half teaspoon.