For attentive service with a side of good dinner conversation, try snagging a seat at the restaurant's bar.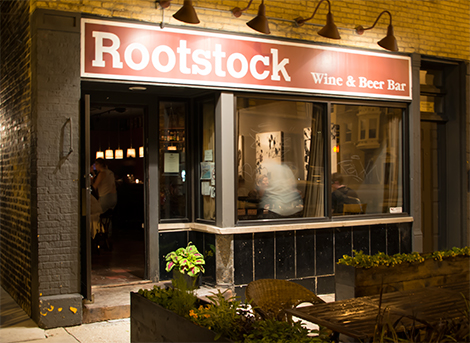 Friday was our wedding anniversary. When our dinner plans suddenly fell through, we happened to be near Rootstock Wine & Beer Bar. We were offered a perfectly lovely table or seats at the bar. We chose the bar.
Just to clarify, I'm not talking about eating bar snacks in a bar. No wings, jalapeño poppers or clever little sliders. That's a different experience, fun in its own right, but here I mean dining at the bar in a place that serves a chef-driven menu.
As the name suggests, Rootstock Wine & Beer Bar takes wine and beer seriously. Their website says, "Our focus is on wine and beer of small production with a strong emphasis on organic and biodynamic farming practices." They take food just as seriously. Their new executive chef, Michael Simmons, most recently worked at Lula Cafe, a perennial Chicago favorite highly regarded for its inventive, thoughtful cuisine. Chef Simmons's considerable talent is evident on Rootstock's well edited menu.
We often choose to eat at the bar when seats are available there. With the right bartender, you get plenty of alone time for private conversation—good bartenders seem to know when to hang back. But you also get a convivial, communal experience that you don't get at a table. Servers are usually busy with many tables, and even if they have time to chat, it can feel awkward, them obviously in the role of server, standing as you sit.
Bartenders, on the other hand, are captains of their ships, and the power shift feels good. Conversations that happen across the bar feel genuinely conversational, as they wipe glasses or lean on the bar. All the while, they're keeping a watchful eye on your fellow patrons, seeing who needs a refill, who's ready to settle up—and maybe who else has something to talk about.
Our bartender Friday night was John Hap, one of the three co-owners of Rootstock. When he asked what we might like to drink, we picked up the food menu and answered that we were thinking of starting with the English and sugar snap peas with pickled crab, mint, fennel and butter. He set two glasses in front of us and poured tastes of a white Burgundy, Melon Vin De France from La Soeur Cadette, and said, "I've been enjoying this with the peas lately." It was delicious on its own and perfect with the peas.
Just before our steaks arrived, he poured us tastes of a zinfandel blend from Unti Vineyards in Sonoma County. Another spot-on call. As was the Bodegas Grant Amontillado "La Garrocha" sherry he suggested for our cheese course at the end. For the cheese course, we had dithered over two choices before settling on one. When the cheese board appeared, both cheeses were there. John said, "I wanted you to taste this. It's on me. Happy anniversary." That's what can happen when you eat at the bar.
The bar is the perfect place to dine alone. No book or Kindle or smartphone needed. The necessary transactional exchanges about food and drink transition naturally into as much or as little conversation as you want. One of our fellow patrons at the bar Friday was a woman dining alone. She appeared to be a regular, and she and John talked a lot. The couple next to us got the same friendly but unintrusive attention we did.
Sitting at the bar can get you eating faster too. On a trip to New Orleans with Marion's sister Lena, we arrived at Emeril Lagasse's NOLA in the Quarter one evening without a reservation. (In our defense, the place where we had made reservations turned out to be grim, so we bailed.) We were told the wait would be 45 minutes, so we took seats at the tiny bar, planning to tough it out. Soon, plates of beautiful, fragrant food appeared before the couple seated at the end of the bar. Lena and I looked at each other and immediately asked for menus. Besides getting our food much sooner and getting our wine glasses "topped up" a couple of times, we were treated to stories of Chef Lagasse, of the time David Byrne stopped in and of life as a young woman bartender in New Orleans.
All this said, some restaurants treat the bar area as a holding pen, stuffing it with a jostling, noisy, selfie-taking crowd. But when they get it right, the bar can be the best seat in the house. So next time you're looking for a new dining experience, try bellying up to the bar.