Lamb is versatile, delicious and easy to cook. These six recipes showcase that versatility.

According to Alfred, Lord Tennyson, "In the Spring a young man's fancy lightly turns to thoughts of love." Ours turns to thoughts of lamb. To be fair, Marion and I pretty much fancy lamb year-round, but spring tends to be when many others think about cooking and eating this most delectable of red meats. If your thoughts are turning to lamb, here are some ideas for traditional and unexpected ways to cook it.
Pan Seared Lamb Chops with Lemon Caper Sage Butter
Quick, elegant and springlike, the pan seared lamb chops shown above are topped with a bright, buttery sauce with capers, sage and lemon zest. Incidentally, this recipe won us some lovely All-Clad cookware. Yeah, the chops were that good.
Braised Lamb Shanks
This meaty cut of lamb inspired this week's post. Saturday night, Marion and I had dinner at Grey Ghost Detroit, a wonderfully meat-centric restaurant that also features craft cocktails. We both had cocktails, of course, and I had a grilled flat iron steak with a white miso nori sauce. Marion had the lamb shank with capers and a brown butter saffron sauce. Our own version of slow-cooked braised lamb shanks is flavored with generous amounts of onions, shallots, garlic and rosemary.
Lamb Meatballs with Saffron, Lavender and Paprika
Marion serves these wonderfully flavorful lamb meatballs over pasta—and with a fascinating side of history, geography and ancient commerce.
Lamb Navarin (Navarin d'Agneau)
About a month ago, a late winter storm had me posting a hearty Irish lamb stew here. This French lamb stew combines lamb, peas, carrots, new potatoes and turnips for a more springlike flavor.
Mushroom Lamb Burgers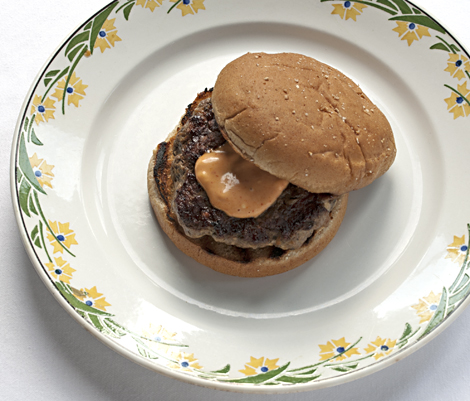 Many of us are trying to eat less meat these days (weird to discuss this in this meaty post, I know). One way to do that is use smaller amounts of meat. In these burgers, mushrooms marinated in soy sauce, brandy, garlic and Chinese five-spice powder replace half the lamb. The result is a healthier, umami-rich and satisfyingly meaty burger.
Linguine with Eggplant and Lamb
Ground lamb is an ensemble player in this dish, sharing the stage with linguine, eggplant, crushed tomatoes, garlic, oregano and half and half.