We love pasta. A lot. Just check the pasta section of the Blue Kitchen archives, and you'll find pages and pages of listings. That's what we did to compile this varied list of six pasta recipes—and a bonus seventh post at the end.
Spaghetti with Artichoke Hearts, Sausage and Olives
After a long weekend in New York, I threw together the dish pictured above using pantry and freezer staples—jarred marinated artichoke hearts, green olives, Italian sausage, tomato paste and pasta. It was delicious. So were the memories of that lovely weekend, also shared here.
Sweet Potato Gnocchi with Wilted Kale
Gnocchi—pillowy, soft dumplings—are sometimes made with flour, sometimes with potatoes. For this recipe, Marion makes them with sweet potatoes, then quickly sautées them in butter, giving them a beautiful color and a lovely, nutty flavor. Then they're tossed with kale cooked with garlic, shallots and red pepper flakes.
Shrimp Fideos with Red Bell Pepper and Edamame
In this globe-trotting, Spanish-inspired dish, uncooked pasta is toasted with olive oil in a skillet before adding liquid to give it a pleasingly nutty taste. Then it's cooked with shrimp, red bell pepper and edamame.
Fettuccine with Cauliflower, Andouille Sausage and Olives
For this recipe, Marion roasts cauliflower to mellow its flavor and add a bit of color. Roasted andouille sausage, olives and shallots also star.
Homemade Marinara Sauce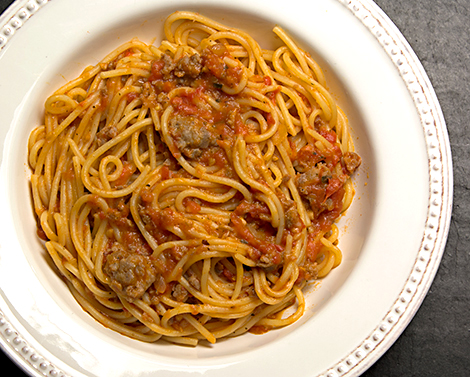 A confession here. I have long been a doctorer of jars of store-bought red sauces. But this homemade classic red sauce with tomatoes, garlic, onions, herbs and not much more is weeknight quick and downright satisfying to make.
Campanelle with Mushrooms and Peas
Speaking of weeknight quick, Marion uses elegantly shaped campanelle pasta to scoop up peas, cream, bits of bacon and even mushroom slices in this dish.
Playful, practical pasta shapes
In this bonus post, we take a look at Italian culinary creativity in producing so many styles of pasta.