Smoky mezcal and tea brewed from dried hibiscus blossoms star in this refreshing, herbaceous cocktail, which also features cilantro, lime juice, simple syrup and club soda. Recipe below.
In our ongoing, varied adventures in cocktail-land, we sometimes play bartender challenge. In the right bar, on a slow night, we'll specify a particular spirit, describe a flavor profile—citrusy, summery, fresh, for instance—and ask the bartender to create something. Almost always, he or she rises happily to the occasion and we end up with something wonderful, full of layers and subtleties.

In doing so, we've been finding certain qualities that delight us when presented to us and that we now actively seek out. Among them is an herbal, even vegetal note. Gins achieve this by adding numerous botanicals, including the juniper berries that create the classic evergreen flavor, herbs, seeds, fruits and roots. Increasingly, bartenders use an array of herbs, citrus oils and peels and other surprises from the plant world to make magic.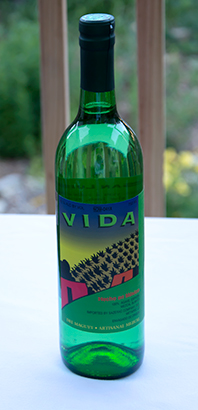 We've also discovered the delights of mezcal, tequila's smoky, usually small batch brother. So have bartenders. Chicago is home to a growing number of mezcal-centric bars, and mezcal is making its way onto cocktail menus pretty much everywhere.
Like tequila, mezcal is made from agave plants. But for mezcal, the agave is roasted for days, often in open pit ovens. This gives the resulting liquor its distinctive smoky taste. Traditionally, mezcal is created by small-scale producers. Its production is carefully controlled under Mexican and international regulations, and only certain regions of Mexico can use the name mezcal. And while tequila is made only from blue agave, mezcal is made from more than 30 species and varietals, producing a wide range of styles, flavors and, not to put too fine a point on it, price points.
Given our love of all things "planty" and our more recent love of mezcal's smoky goodness, when I came across a cocktail on the Bon Appétit website made from mezcal, cilantro and a tea made from dried hibiscus blossoms, suffice it to say I was intrigued.
I immediately got my hands on a bottle of Del Maguey VIDA de San Luis Del Rio, a single village, organic mezcal from Oaxaca, the Mexican state that produces the most of this smoky spirit.
Tracking down dried hibiscus blossoms proved to be a little trickier. Tea made from these blossoms is apparently a popular Mexican beverage, especially for children. And we live in Chicago's arguably most Mexican neighborhood. How hard could it be? A translator on my phone told me hibiscus in Spanish is hibiscos. That's as may be, but it is more traditionally known as Jamaica (ha-MEYE-ca). Finally figuring this out made my search much easier. According to Bon Appétit, if you can't find hibiscus blossoms, you can substitute hibiscus tea in bags. Honestly, I had worse luck trying to find those.
So how does it taste? In a word, wonderful. To be more helpfully descriptive, the hibiscus blossoms gave it a tart, vegetal flavor that was brightened by the lime juice and slightly (but only slightly) sweetened by the simple syrup. The cilantro was subtle, but present (the Bon Appétit cocktail that inspired this includes a simple syrup made with cilantro—we love cilantro, but it can take over the shop if you're not careful). The mezcal was deliciously smoky. And finally, the club soda added a refreshing, summery note.
Garnet and Smoke, a mezcal hibiscus cocktail
Makes 2 cocktails (see Kitchen Notes)
1/2 cup dried hibiscus blossoms (available in Mexican and Indian grocers)
fresh cilantro
2 ounces mezcal
1 ounce simple syrup (see below)
3/4 ounce fresh lime juice
club soda
Make the hibiscus tea—and the simple syrup. Bring 3 cups of water to a low boil in a medium saucepan and remove from heat. Stir in hibiscus blossoms—the water will immediately turn the deep, vivid red you see in the cocktail above—and steep for 10 minutes. Strain tea into a bowl and cool completely. This will make way more hibiscus tea than you need for this recipe, but you'll probably want to make it again (or you can drink it as tea).
Now's a good time to make your aptly named simple syrup if you don't already have some on hand. Combine equal parts sugar and water in a small saucepan (I generally do 1 cup each) and bring to a simmer over medium heat, stirring until sugar completely dissolves. Remove from heat and cool completely. Both the hibiscus tea and simple syrup will keep for more than a week refrigerated in airtight containers.
Make the cocktails. Put 3 to 4 sprigs of fresh cilantro in a cocktail shaker or tall glass, removing the thick stems first. Add mezcal and muddle to release the cilantro's oils and flavors. Add 2 ounces of hibiscus tea, 1 ounce of the simple syrup and the lime juice. Add some ice to the glass or shaker and stir to combine and chill the liquids.
Strain the mixture into 2 ice-filled rocks glasses, top with club soda and give a slight stir. Garnish with cilantro leaves or a lime wheel if you're feeling fancy. Marion and I were so smitten by the bright red drinks that we didn't bother. Serve.
Kitchen Notes
Serves how many? The way we ended up serving it, the club soda turned the recipe into two drinks. But we tasted it first as a single cocktail, without the club soda. It was quite good that way too, but with double the mezcal, it packs twice the punch. And honestly, the club soda made it feel more refreshing to us.