Lamb and turkey stand in for ground beef in these five burger recipes.
I've been thinking about burgers lately. Big, juicy, beefy burgers. So imagine my surprise when I dug through the Blue Kitchen archives and didn't find a single beef hamburger. But I did find these lamb and turkey burgers, and I remember every one of them fondly.
Lamb Burgers with Lemon Zest and Dijon Mustard
I pan grilled the burger you see above, but you could certainly also grill it. Lemon zest, garlic, fresh parsley, a scallion and Dijon mustard add a nice brightness to the rich lamb flavor.
Asian Turkey Burgers with Sriracha Mayonnaise
Ground turkey is a lower fat animal protein, but it needs flavor help to become a decent burger. In this recipe, hoisin sauce, green onions, ginger, garlic, soy sauce and a topping of Sriracha mayonnaise do the trick.
Grilled Lamb Feta Burgers with Light Rémoulade
Traditional French rémoulade sauce gets a light makeover, substituting Greek yogurt and olive oil for mayonnaise. And it adds even more flavor to these grilled lamb feta burgers.
Turkey Feta Burgers
These weeknight quick turkey feta burgers are a recent addition to the regular Blue Kitchen rotation—and so flavorful, you can hold the ketchup (or any other condiments).
Mushroom Lamb Burger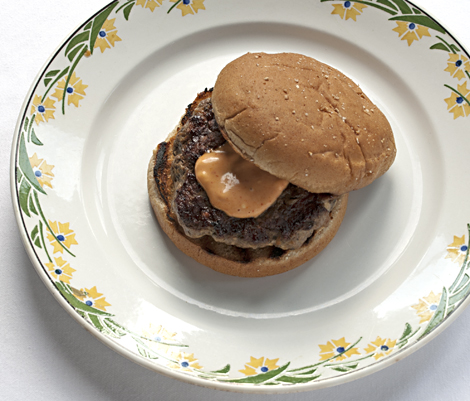 You'll get all the umami with half the meat with these mouthwatering burgers (seriously, I have a Pavlovian response right now, just thinking about them). Mushrooms marinated in soy sauce, brandy, garlic and Chinese five-spice powder replace half the lamb in this recipe.