I claim to be an omnivore, but if I'm being honest, I'm more of a carnivore who also appreciates decent sides. I've been known to say, "A day without meat is like a day without sunshine." That said, some really delicious vegetarian recipes have appeared here over the years, some of them even cooked by me. Here are six of our favorites.
Curried Lentils with Poached Eggs
Inspired by a breakfast at April Bloomfield's The Breslin in the Ace Hotel in New York, Marion cooked the lentils shown above with an international mix of spices and aromatics and topped them with poached eggs to make a satisfying vegetarian lunch. Here's the recipe.
Sautéed Tofu with Ginger and Garlic
Marion first made this umami-rich sautéed tofu main course for a July 4th barbecue. It was so good, I had her make it again. It's now part of our younger daughter's regular rotation, and she's got some of her friends cooking it too.
Drop Biscuits and Vegetarian Red Eye Gravy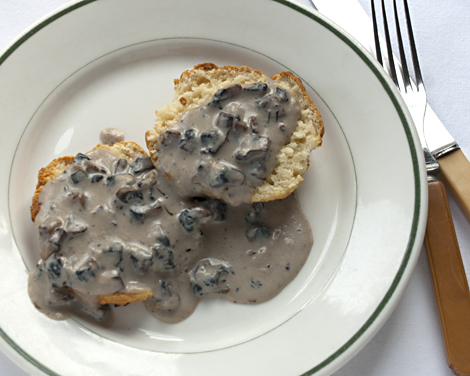 Biscuits and gravy are a thing with me. I seek them out whenever we're in a breakfast place that I think might do them well. They often come up short. So imagine my surprise at how amazingly "meaty" this meatless gravy turned out, with chopped mushrooms and spices standing in convincingly for sausage. Recipe here.
Sweet Potato Gnocchi with Wilted Kale
We often describe recipes here as weeknight quick, because that's often what life seems to require. But sometimes we like to take our time in the kitchen, basking in the aromas, textures and hands-on processes of cooking. Marion describes making these sweet potato gnocchi as meditative.
Baked Eggs with Tomato and Spinach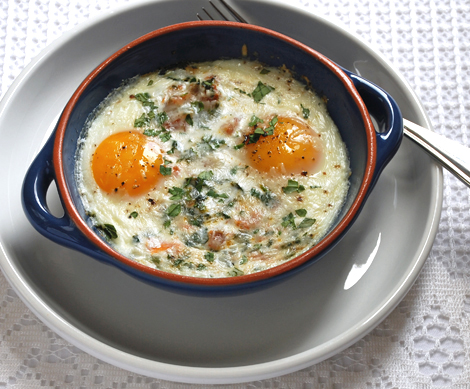 If you should ever go to Columbus, Ohio, go hungry. That's where we found the inspiration for this simple, luxurious dish of eggs baked with cream, tarragon and a compote of tomatoes, spinach and garlic.
Marion's Creamy Mac and Cheese with Tarragon
How often does macaroni and cheese land you on TV? Marion's no-bake version, with a creamy finish and a slight kick, did just that. Here's her "as seen on TV" recipe.