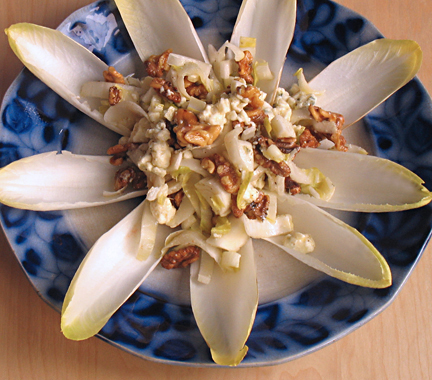 Eleven years ago this month, we started Blue Kitchen. We really had no idea exactly what we were doing or any clue we'd still be publishing it now. But our love of food—eating it, making it, thinking, talking and writing about it—has kept us going. Today, we launch into year 12 with a look back at the first 11 years, one recipe per.
2006/7 Besides being delicious in its own right, the Endive Salad with Blue Cheese and Walnuts pictured above always reminds me of one of my favorite little New York bistros, Lucien. Every time we serve this salad, guests end up vying for every last morsel.
2008 With few exceptions, Marion is the baker in our family. Her Frangipane Pear and Cherry Cake, featuring pears, tart cherries and almond-based frangipane, gets even better the second day. The romantic-sounding term frangipane can be traced back to, first, a noble Roman family of the 11th century and then to the perfumier of Louis XIII of France.
2009 Pleasantly peasanty, Chicken with Lentils (Poulet aux Lentilles) is simple bistro fare at its best. Chicken thighs are dry brined with a spice/herb/salt rub, then roasted atop the lentils and vegetables, spreading their juices and flavor throughout the dish.
2010 November issues of American food magazines are dedicated to Thanksgiving every year, with good reason. Home cooks pull out all the stops for one big Thursday dinner. But what about Friday morning and the inevitable weekend guests? Marion's Ricotta Pancakes with Sautéed Pears pack their own wow power, sure to impress.
2011 A quick trip to New York—and a cold, blustery Sunday—inspired Marion to slow cook ground beef and chunks of pork with tomatoes, peppers, carrots, mushrooms and paprika to create this hearty, rustic Beef and Pork Ragú. For hours, it filled our then apartment with amazing cooking smells and anticipation.
2012 So I'm noticing a French theme in my recipes over the years. And I own it—I love French cuisine in its many forms. But the French 75 cocktail, while named for a legendary World War I French field gun, is of cloudy origin. Maybe French, maybe British, maybe American—or all three. What is clear is that this delicious gin and champagne cocktail packs an impressive wallop.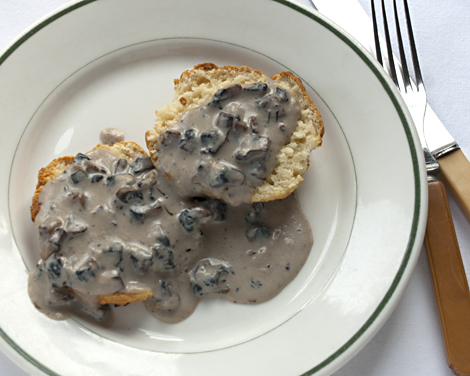 2013 Take it from a total non-vegetarian (me): these Drop Biscuits and Vegetarian Red Eye Gravy will please—and possibly fool—even the biggest carnivore. Adapted from The Southern Vegetarian Cookbook, the gravy gets its "meaty" umami-rich, sausage-like flavor and texture from mushrooms, herbs and spices.
2014 Marion's hearty Fish and Corn Chowder, chock full of potatoes, corn, fish and bacon, gets a sweet note when corn stock stands in for fish stock. It's inspired by time Marion spent in Nova Scotia—and by the ample cornfields of our current Midwestern life.
2015 Although cold weather is settling in, we don't need that excuse to crave Marion's weeknight-quick three-bean chili. Besides the usual suspects of chili ingredients—chili powder, cumin, ground beef or turkey, onion, tomato paste—this one adds coffee, red wine and soy sauce.
2016 This recipe for Chicken Thighs with Potatoes, Lemon and Capers didn't start as a recipe. It was an "I have these ingredients and we need dinner" moment, so make it up. This is the kind of cooking I aspire to do well, and occasionally—as in with this savory dish, brightened by lemon juice and briny capers—achieve.
2017 If you've been following us here lately at all, you know we're gobsmacked by the world of inventive cocktails. Garnet and Smoke, a mezcal hibiscus cocktail, is an invention of mine as much inspired by our new old house in Pilsen, a predominantly Mexican neighborhood in Chicago, as it is by our many evenings spent at bars watching talented bartenders work their magic.
In compiling this roundup of 11 years, decisions were as much driven by what to leave out as by what to put in. Poring over the Blue Kitchen archives, Marion and I both saw so many recipes we'd forgotten we'd even cooked. If we've whetted your appetite here, we encourage you to spend some time in the archives yourself. And keep coming back. There's more to come.