Six recipes showcase meals, flavors, techniques and culinary influences of the African continent.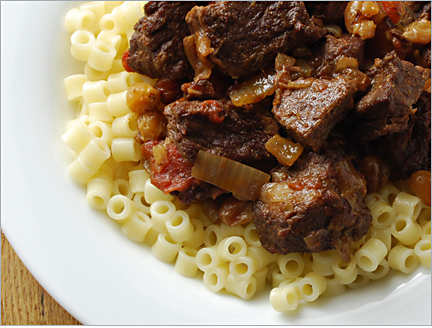 Quite unintentionally, a serially bankrupt businessman and second-rate former reality TV celebrity has become the education president. On practically a weekly basis, anxious parents find themselves scrambling to teach their children the meanings of new offensive terms—and worse, explain new offensive behaviors by the so-called leader of the free world. The most recent (as we go to press, at least) is truly appalling.
Response has been swift and spirited. Airbnb CEO Brian Chesky announced that the short-term vacation rental company will spend at least $100,000 on digital ads promoting listings in Haiti, El Salvador and African countries to "encourage more travelers to visit these special and beautiful places." And a Chicago hot dog stand posted this sign outside.
Here at Blue Kitchen, we pride ourselves in our cheerful willingness to borrow ingredients, ideas and techniques from all over the world. Now seemed like a pretty good time to revisit some of those we've shared from the African continent. Some originate in Africa—others have ingredients that have made their way there from other places.
Moroccan Braised Beef
Traditional Moroccan cuisine is as influenced by Europe and the spice trade routes as by being part of the African continent. Made with golden raisins and an international mix of spices, the robust braise pictured above delivers the warm, sweet/savory flavors of Morocco.
Shrimp Rougail
This lively, fiery, easy-to-make shrimp dish comes from the Indian Ocean islands of Réunion and Mauritius, by way of Paris. Nominally part of Africa, these tiny specks of land some 500 miles east of Madagascar are profoundly shaped by their inhabitants' ancestries—Indian, African, Malagasy, Chinese and ethnic French. Garlic, ginger, cumin, tomatoes and cilantro deliver the flavor. A Thai chili packs the heat.
Pasta and Chickpeas
Cultivated since around 3,000 BC, chickpeas have spread from their Middle Eastern origin to Africa, the Mediterranean, India and elsewhere around the world. For this dish, they travel to Italy, as one of Rome's favorite humble dishes.
Moroccan Lamb Chops with Chickpeas
Chickpeas make another appearance. A Moroccan spice rub with cumin, coriander, cinnamon, cayenne pepper and other spices is used to flavor both pan grilled lamb chops and a side of chickpeas with golden raisins.
Warm Butter Bean Salad with Chorizo and Tomatoes
Butter beans aren't strictly African. They originated in South America, but by the early 1500s had made their way many places, including Africa. They're a staple there now, and South Africa is a major exporter. This international dish pairs them with Spanish chorizo.
Curried Steaks with Black-eyed Pea Salsa
Black-eyed peas did originate in North Africa. They too have traveled into kitchens all over the world. Here, they team up with green bell pepper, diced tomatoes, scallions and chili pepper to make a lively salsa for curried steaks. The salsa would also be delicious spooned over simple pan-seared pork chops.